Alcoholic Liver Disease | Types, Causes, Risk Factors, Symptoms, & Prevention
Alcoholic liver disease affects many heavy drinkers. Not all people who abuse alcohol or are addicted to it develop alcoholic liver disease, but those who do are best off stopping their alcohol intake.
Types Of Alcoholic Liver Disease
There are three types of alcoholic liver disease: alcoholic fatty liver, alcoholic hepatitis, and alcoholic cirrhosis. A person may progress through these three types as stages of liver disease, or they may develop just one of them.
Alcoholic Fatty Liver
Also called fatty liver disease or steatohepatitis, alcoholic fatty liver is a condition in which an abnormal amount of fat is deposited in the liver. A concentration of fat (steatosis) in the liver puts stress on it, causes inflammation, and makes it function less efficiently.
Most people who drink heavily will develop alcoholic fatty liver, but it's uncommon for it to progress to more severe stages of alcohol-related liver disease. If you stop drinking, the liver should repair itself.
Alcoholic Hepatitis
Alcoholic hepatitis is inflammation or swelling that impairs liver function and kills liver cells. It may be mild or severe. Up to 35 percent of people who drink heavily develop this condition.
Acute alcoholic hepatitis (the most severe form) can come on suddenly, such as after an episode of binge drinking. It can progress to serious complications and liver damage.
People with alcoholic hepatitis have a high risk of liver failure and death. They should stop drinking immediately for the best outcome. If they do, the condition may be reversible.
Alcoholic Cirrhosis
Alcoholic cirrhosis is a severe condition of liver scarring. Heavy drinking damages the liver, which tries to repair itself by producing scar tissue. A buildup of scar tissue is called fibrosis. Cirrhosis is the late stage of liver fibrosis that can lead to liver failure, cancer, and death.
Liver cirrhosis isn't curable, even if you stop drinking. But ceasing alcohol consumption can stop or slow the damage. If you keep drinking, cirrhosis will get worse and could be life-threatening.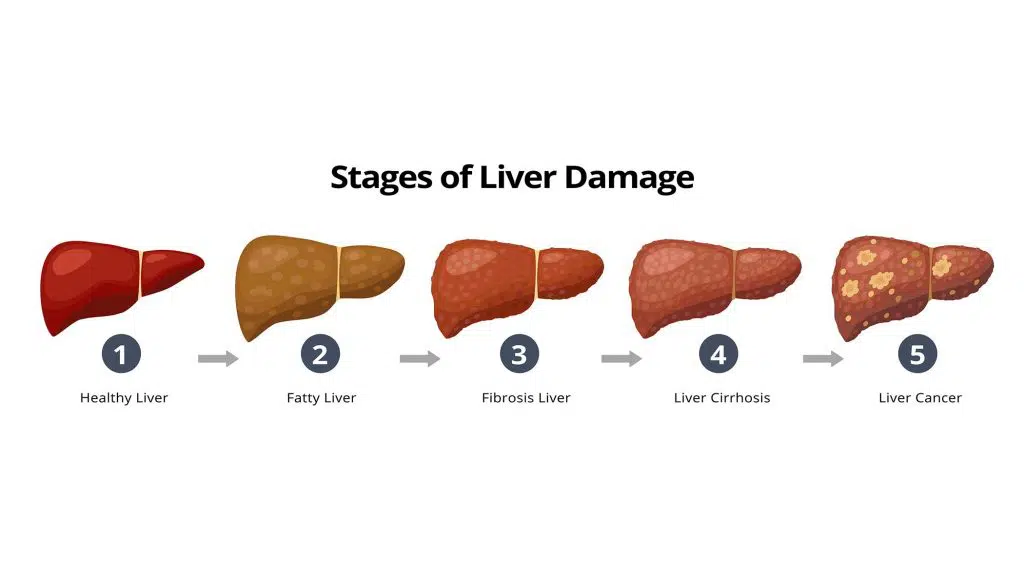 Causes Of Alcoholic Liver Disease
An enzyme in your liver called alcohol dehydrogenase breaks down toxins in the alcohol you drink. It turns ethanol alcohol into acetaldehyde and then into acetate and other metabolites that the body uses for energy.
Acetaldehyde is an even worse toxin than alcohol. The more you drink, the more acetaldehyde will be present in your stomach and liver. High amounts of this toxin can contribute to alcohol-related liver disease.
Alcohol abuse can also increase how many free radicals (unstable, dangerous molecules) are in your liver. Too many free radicals can lead to liver injury and disease.
Your body makes antioxidants to counteract free radicals, but excessive alcohol use decreases antioxidant levels, throwing the body off balance and causing disease.
Risk Factors For Alcoholic Liver Disease
Not everyone who drinks heavily or is addicted to alcohol develops alcoholic liver disease. And some people who drink regularly but not excessively may end up with alcoholic hepatitis.
Some risk factors make your liver more prone to disease, such as:
Malnutrition: Many people with a substance addiction don't eat properly. Malnutrition harms the immune system and makes it hard for your body to fight disease.
Sex: More women than men develop cirrhosis and it progresses more quickly.
Hepatitis B or C: As an infection (hepatitis B) and an inflammatory liver disease (hepatitis C), these conditions make your liver more vulnerable.
Smoking cigarettes: People with alcohol addiction who smoke have three times the risk of cirrhosis as those who don't smoke.
Genetic factors: Liver disease may run in your family, which means you're predisposed to it.
Obesity: People who are significantly overweight have a higher risk of liver complications when drinking alcohol.
Binge drinking: Consuming five or more alcoholic beverages in two hours (four or more for women) is very harmful to your liver.
Alcoholic Liver Disease Symptoms
Alcoholic liver disease symptoms range from mild to severe, and may include:
fatigue
loss of appetite, weight loss
tenderness in the abdomen
spider veins
itchiness
fever
nausea and vomiting
a yellowing of the eyes and skin (jaundice)
high blood pressure in the portal vein between intestine and liver (portal hypertension)
fluid buildup in the liver that causes swelling (ascites)
cognitive impairment caused by toxins that the liver is too damaged to process (hepatic encephalopathy)
Severe alcoholic hepatitis or cirrhosis can lead to liver cancer (hepatocellular carcinoma). If it progresses that far, you may need a liver transplant to regain physical health.
Alcoholic Liver Disease Prevention
When you have liver disease, higher amounts of some liver enzymes end up in your blood. Two of these enzymes are aspartate aminotransferase (AST) and alanine aminotransferase (ALT).
An AST test may be part of routine blood tests that can catch liver disease early so you can take steps to prevent it. An ALT test can be used to diagnose liver problems so you have a better idea of how much liver damage you have.
Even if you don't have liver disease, there are steps you can take to avoid it, such as:
Drink less alcohol or stop drinking
Keep a healthy weight through exercise and nutritious eating (lots of fruit and vegetables)
Don't share needles or have unprotected sex—both raise your risk of hepatitis
Be careful when mixing alcohol and medications—Tylenol (acetaminophen) can damage the liver, and combining it with alcohol makes both substances more toxic
If you're concerned for yourself or a loved one with alcoholic liver disease, we can help. Our compassionate treatment specialists at Ark Behavioral Health are always here to answer your questions and guide you toward better health.
FAQ
What's The Difference Between Alcoholic Hepatitis & Cirrhosis?
Alcoholic hepatitis is an acute inflammation of the liver caused by heavy drinking. It can often be reversed by limiting or ceasing alcohol intake.
Alcoholic cirrhosis is a chronic liver disease resulting from long-term alcohol abuse, in which scar tissue buildup interferes with liver function, causing a range of serious side effects. Cirrhosis is not typically reversible.
Learn more about Alcoholic Hepatitis Vs. Cirrhosis
What Is Alcoholic Steatohepatitis?
Alcoholic steatohepatitis is liver inflammation caused by excessive alcohol use. Some cases can be treated with various therapies and lifestyle changes. If left untreated, inflammation can lead to irreversible liver damage and even death.
Learn more about Alcoholic Steatohepatitis
Written by Ark Behavioral Health Editorial Team
©2023 Ark National Holdings, LLC. | All Rights Reserved.
This page does not provide medical advice.
Questions About Treatment?
Ark Behavioral Health offers 100% confidential substance abuse assessment and treatment placement tailored to your individual needs. Achieve long-term recovery.
100% confidential. We respect your privacy.
Prefer Texting?
Our friendly support team is here to chat 24/7. Opt out any time.