Behavioral Therapy
Published
on

April 29, 2021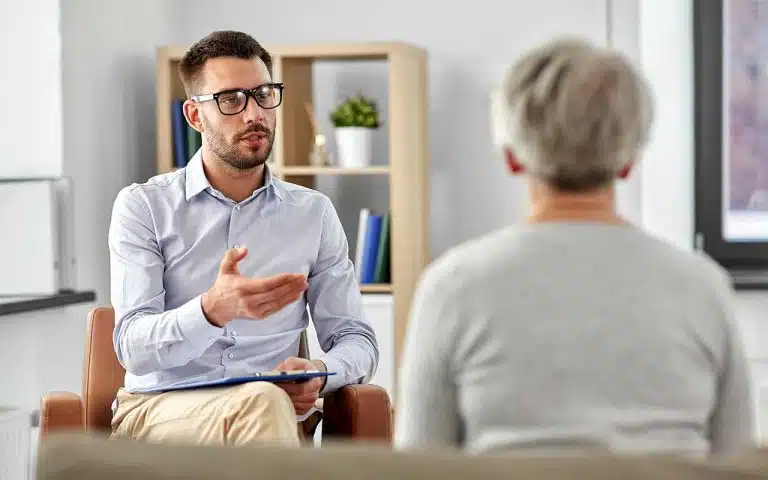 Disclaimer: This content is for informational purposes only and is not a substitute for medical advice. Ark Behavioral Health may or may not offer the treatment options discussed on this page. To find out which rehab programs we offer, please speak with an Ark admissions specialist today.
Most substance abuse treatment plans include behavioral therapy. Invented over a century ago, this type of therapy can help you change unhealthy behaviors associated with addiction and other mental health problems.
How Does Behavioral Therapy Work?
Behavioral therapy is a type of psychotherapy. Also called talk therapy, psychotherapy involves discussing psychological challenges with a mental health professional.
In behavioral therapy, the discussions focus specifically on changing unhealthy behaviors that lead to psychological challenges.
Through behavioral therapy, a person who struggles with substance abuse can learn to:
change unhealthy behaviors and attitudes involving drugs
become more engaged in treatment
boost their sense of well-being
develop coping skills to manage triggers (people, places, situations, thoughts, or feelings that make them want to abuse drugs)
Along with substance abuse, behavioral therapy can treat a variety of other mental illnesses, including:
depression
panic disorder
bipolar disorder
schizophrenia
borderline personality disorder (BPD)
obsessive-compulsive disorder (OCD)
post-traumatic stress disorder (PTSD)
attention deficit hyperactivity disorder (ADHD)
social anxiety disorder
eating disorders
Learn more about Individual Therapy
Types Of Behavioral Therapy
Over the years, clinicians have developed various types of behavioral therapy. The most popular types include:
Cognitive Behavioral Therapy (CBT)
Cognitive Behavioral Therapy, also known as Cognitive Behavior Therapy or CBT, is the most popular type of behavioral therapy. Pioneered by psychiatrist Aaron Beck, it's based on the belief that unhelpful behaviors and thought patterns contribute to psychological issues.
As a goal-oriented form of therapy, CBT starts with the client identifying their goals. The therapist then helps the client achieve those goals by teaching them how to:
recognize unhelpful thoughts, such as "I'll never get better"
replace unhelpful thoughts with helpful thoughts, such as "If I work hard, I can get better"
develop stress reduction skills, such as deep breathing, muscle relaxation, meditation, and journaling
face fears instead of avoiding them
prepare for potentially difficult situations
According to the American Psychological Association (APA), many studies have proven CBT to be an equally or more effective treatment than other types of therapy and psychiatric medications. Most other behavioral therapies are types of cognitive behavioral therapy.
Learn more about Cognitive Behavioral Therapy (CBT)
Dialectical Behavioral Therapy (DBT)
Dialectical Behavioral Therapy (DBT) is a type of cognitive behavioral therapy that was originally designed to treat borderline personality disorder. However, it can also treat many other mental health concerns, including addiction.
Dialectical behavioral therapists help clients change their behaviors through four main therapy techniques:
mindfulness, which helps clients focus on the present moment in a nonjudgmental manner so they can react to challenging situations in a calmer, healthier way
interpersonal effectiveness, which helps clients strengthen their communication skills and build positive, healthy relationships
distress tolerance skills, which include distraction, improving the moment, self-soothing, and determining the pros and cons of tolerating or not tolerating distress
emotion regulation, which helps clients identify and manage negative thoughts and feelings
Learn more about Dialectical Behavioral Therapy (DBT)
Rational Emotive Behavior Therapy (REBT)
Rational Emotive Behavior Therapy (REBT) is a type of cognitive behavioral therapy created by psychologist Albert Ellis. It focuses on identifying irrational beliefs and replacing them with more rational ones.
For example, if a person struggling with addiction believes they are a failure because they relapsed, an REBT therapist can help them realize that this belief is not realistic. The client can then adopt the more realistic belief that relapse is simply a sign they need additional or modified treatment.
REBT can also help clients cope with the unpleasant feelings that come with irrational beliefs. Common coping strategies recommended in REBT include meditation, journaling, and exercise.
Acceptance & Commitment Therapy (ACT)
Acceptance and Commitment Therapy (ACT) is another type of cognitive behavioral therapy. However, unlike most forms of CBT, it emphasizes accepting unpleasant thoughts and feelings rather than changing them.
ACT therapists believe that trying to change a thought or feeling simply doesn't work. Instead, they teach clients to change their actions. To make this process easier, they focus on six core principles:
cognitive defusion, which helps clients mindfully observe thoughts and feelings without attaching significance to them
acceptance, which involves acknowledging unpleasant thoughts and feelings without trying to change them
living in the present moment
self-observation, which helps clients distinguish between the act of thinking and the act of observing one's thoughts
values, which are qualities the client finds meaningful, such as "honesty," "creativity," or "persistence"
committed action, which involves acting according to your values no matter what thoughts or feelings you're experiencing
Cognitive-Behavioral/Problem-Solving Group Therapy
Although individual behavioral therapies are important for recovery, so are group therapies. This type of group therapy, like CBT, helps group members change unhealthy thoughts and behaviors associated with alcohol or drug use.
Group therapies are effective for building relationship skills, expressing triggers and trauma, and sharing thoughts or feelings in a safe environment.
Learn more about Group Therapy
Contingency Management (CM)
Contingency Management (CM) is a type of cognitive behavioral therapy designed to treat addiction. It involves rewarding clients for positive behaviors, such as staying sober.
There are two types of CM: voucher-based reinforcement (VBR) and prize incentives (PI).
In VBR, clients receive vouchers that can be exchanged for items like food, gift cards, and movie passes. The monetary value of the voucher increases when a client provides drug-free urine samples, attends therapy sessions, or makes other positive life changes.
In PI, clients draw from a bowl to receive a cash prize between $1 and $100. The more positive life changes they make, the more draws they get.
Learn more about Contingency Management
Motivational Enhancement Therapy (MET)
Motivational Enhancement Therapy (MET) is a short-term type of cognitive behavioral therapy that helps people with addictions become more engaged in treatment. It typically consists of four sessions.
In the first session, a mental health care professional assesses the client's situation. 
In the following sessions, the professional and client talk about the client's substance use and motivation for change, create a plan to improve that motivation, and discuss coping skills to help the client maintain recovery.
Generally, the client should start another kind of behavioral therapy after they finish MET so they can continue learning recovery skills.
Motivational Interviewing (MI)
Motivational interviewing (MI) is a type of evidence-based therapy that helps patients overcome conflicting feelings and fear of change. This therapy helps motivate you to change unhealthy behaviors related to substance use.
MI is a practical and empathetic tool that acknowledges it's difficult to make changes in life. However, MI is proven effective for empowering substance use disorder patients to make healthy changes.
Learn more about Motivational Interviewing
Behavioral Family Therapy
The goal of family therapy in addiction treatment is to meet the needs of every family member. Addiction is often viewed as a family disease, and this therapy method uses CBT to identify and change unhealthy behaviors throughout the whole family.
Family therapy may include group sessions with the patient and their loved ones, private family member sessions with a therapist, and other forms of individual/group counseling.
Learn more about Family Therapy
Exposure Therapy (ET)
Exposure Therapy (ET) is a type of cognitive behavioral therapy that can help people become desensitized to their fears. One of the most popular forms of exposure therapy is called systematic desensitization (SD).
SD consists of three steps. First, the therapist teaches the client relaxation techniques such as deep breathing and meditation.
Next, the therapist and client work together to create a hierarchy of anxiety-provoking situations. They rate each situation on a scale from 0 to 10, with 0 being the least stressful and 10 being the most stressful.
Finally, the client starts exposing themself to each situation on the hierarchy. They begin with the least stressful situation and gradually work their way up. If they become anxious during an exposure, they can use the relaxation techniques they learned earlier.
Exposure therapy can help people manage their anxieties instead of abusing substances to cope. It can also help them deal with fears surrounding addiction, such as the fear of withdrawal symptoms.
Eye Movement Desensitization & Reprocessing (EMDR)
EMDR is a type of therapy that can treat trauma and post-traumatic stress disorder. It helps people process traumatic memories through bilateral stimulation (stimulation that occurs in a rhythmic left-right pattern).
During bilateral stimulation, the therapist asks the client to focus on a traumatic memory along with associated thoughts, feelings, and physical sensations. They help the client develop a healthier view of the memory so they can experience fewer PTSD symptoms.
Along with PTSD, EMDR may also help treat other mental health conditions, including addiction.
Learn more about EMDR
To learn more about behavioral therapy and other substance abuse treatment options, please reach out to an Ark Behavioral Health specialist today.
Written by Ark Behavioral Health Editorial Team
©2023 Ark National Holdings, LLC. | All Rights Reserved.
This page does not provide medical advice.
Questions About Treatment?
Ark Behavioral Health offers 100% confidential substance abuse assessment and treatment placement tailored to your individual needs. Achieve long-term recovery.
100% confidential. We respect your privacy.
Prefer Texting?
Our friendly support team is here to chat 24/7. Opt out any time.