Al-Anon Support Group Meetings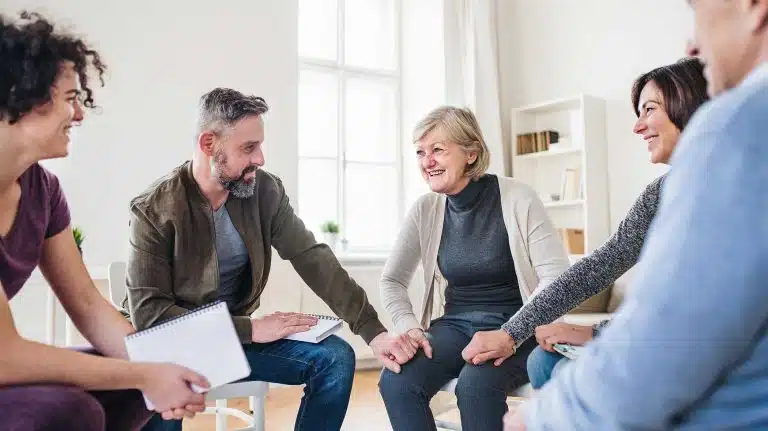 Al-Anon Family Groups offers a mutual support program for people whose lives have been affected due to someone else's alcoholism. The program teaches Al-Anon principles, offers a wide array of Al-Anon meetings, and provides assistance to Al-Anon members.
In addition to this, Alateen meetings are offered. Alateen is a non-religious fellowship of teenagers who have had to deal with family members suffering from alcoholism. By attending an Anon program, you meet with others who share their experiences.
You can receive mutual support, advice, and meet others who have faced similar situations when you attend a group. Attending an Al-Anon/Alateen meeting helps you understand that you're not alone. Meetings are held all around the world.
History Of Al-Anon
In 1939, families and friends of alcoholics attended an A.A. (Alcoholics Anonymous) meeting. During this meeting, many learned the benefits of the twelve-step program proposed by A.A.
Later, families of alcoholics began to have meetings of their own. In 1951, the name Al-Anon Family Groups was chosen and the twelve steps used in A.A. were adopted.
In 1959, the first Alateen group was registered. In 1961, the Al-Anon World Service Conference (WSC) was first held on a trial basis. In 1996, the Anon Family Group headquarters moved to Virginia Beach, Virginia after the WSC approved the purchase of property.
Learn more about the 12-Steps & Traditions Of Al-Anon
Types Of Meetings Offered
Al-Anon offers numerous resources including literature, public outreach, and information services. In addition to this, they offer numerous group meetings for you to participate in.
Alateen Meetings
Alateen meetings are specifically designed to cater to teenagers and young adults. Alateen is not a place for teenagers who are struggling with alcohol abuse. The goal of the meetings is to share experiences with one another to learn about effective ways to cope with varying issues.
Alateen groups are a great opportunity for teenagers to surround themselves with others who have shared experiences. While not every situation will be the same, these meetings allow for better understanding and empathy for those affected by addiction or alcohol abuse.
Electronic Meetings​
During the Covid-19 pandemic, many people became accustomed to online services. No matter which group you attend, you can also select the option of an online meeting.
While not as intimate as a face-to-face meeting, virtual meetings still allow you to share information with one another. Whether you're using Zoom or Skype to communicate, you'll still be able to gain advice and show your solidarity with families and friends of alcoholics.
Al-Anon gives you the option to use chat features on their website. Telephone meetings are also offered, as well as the Al-Anon Recovery podcast.
In-Person Meetings
If face-to-face meetings are more impactful for you, visit al-anon.org to find local meetings and groups in your area. Al-Anon members are adult children and other family members or friends who are worried about a problem drinker in their life.
Meetings, whether in-person or online, are excellent ways to tackle the issue at hand. Meeting information can be found on the website and the process is simple. There will be a meeting ID as well as a meeting list to ensure anonymity.
If you or a loved one live with addiction, don't hesitate to contact our helpline to speak to one of our professionals today.
Find A 12-Step Support Group Near You
Written by Ark Behavioral Health Editorial Team
©2023 Ark National Holdings, LLC. | All Rights Reserved.
This page does not provide medical advice.
Questions About Treatment?
Ark Behavioral Health offers 100% confidential substance abuse assessment and treatment placement tailored to your individual needs. Achieve long-term recovery.
100% confidential. We respect your privacy.
Prefer Texting?
Our friendly support team is here to chat 24/7. Opt out any time.