Marijuana Slang | Nicknames, Streetnames, & Synonyms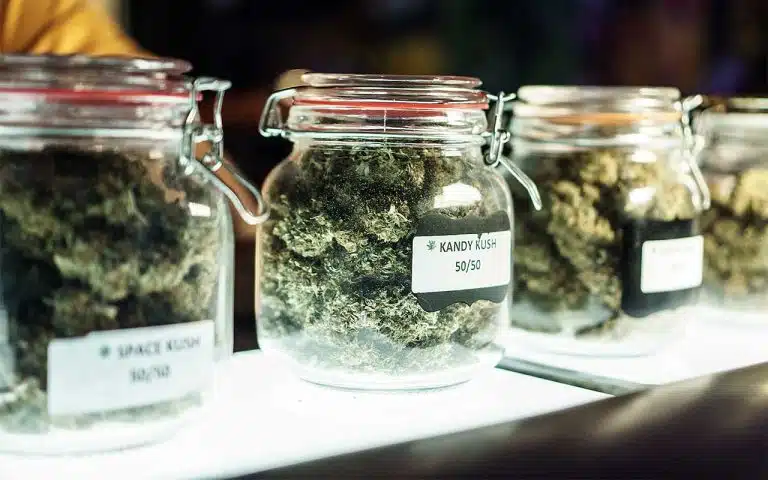 The most popular drug in the United States after caffeine, alcohol, and nicotine, marijuana comes from the cannabis plant. That's why it's often called cannabis.
People also use a variety of other marijuana synonyms and street names. Learning these terms can help you determine if your loved one is abusing marijuana and trying to hide it.
Marijuana Street Names & Synonyms
The most common nicknames for marijuana include:
420
Bud
Dope
Grass
Hemp
Herb
Mary Jane
Pot
Reefer
Weed
Less common nicknames include:
Afghan
Arizona
Ashes
Aunt Mary
Bernie
Bhang
Blaze
Bogart
Broccoli
Catnip
Cheeba
Chippie
Chronic
Cripple
Dank
Devil's Lettuce
Giggle Smoke
Hay
Hot Stick
Jay
Joy Smoke
Joy Stick
Juanita
Nug
Nuggets
Parsley
Roach
Sinsemilla
Skunk
Spliff
Tobacco
Toke
Names For Certain Types Of Marijuana
The two main strains of marijuana are called Indica and Sativa.
There's also a particular strain of Indica called Kush and a particular strain of Sativa called Purple Haze.
Other names for certain kinds of marijuana include:
Edibles: marijuana mixed in foods like cookies, brownies, lollipops, or gummy bears, which are often preceded by the words "special" or "medicated" (such as "special brownies" or "medicated lollipops")
Ditch Weed: marijuana found in the wild
Hydroponic Weed: marijuana grown without soil
Marijuana Concentrates: concentrated forms of the cannabinoids (compounds found in cannabis) THC and/or CBD
Other names for hydroponic weed include:
Animal Cookies
Chicago
Dro
Droski
Gigi
Girl Scout Cookies
Mochi
Platinum Cookies
Skywalker
Tahoe
Other names for marijuana concentrates include:
Badder
BHO
Budder
Crumble
Dabs
Ear Wax
Errl
Hash Oil
Honey Oil
SAP
Shatter
Wax
Geographical & Cultural Nicknames For Marijuana
Some marijuana street names indicate where the drug was made. These names include:
Acapulco Gold
African Black
African Bush
Black Russian
Colombo
Indo
Maui Wowie
Mexican
Panama Gold
Texas Tea
Thai Stick
There are also cultural nicknames for marijuana. For instance, a common Spanish term for marijuana is mota, while a common Hawaiian term is pakalolo.
In addition, many South Africans call the drug "dagga," North Africans call it "kif," and Jamaicans call it "ganja."
Names For Marijuana Mixed With Other Drugs
Some people mix marijuana with other drugs to achieve a stronger high. These mixtures have unique street names. For example, a cigarette that contains marijuana and another drug is often called an Amp Joint.
Other marijuana drug combinations and their nicknames include:
marijuana & alcohol: Herb and Al
marijuana & heroin: Atom Bomb, A-Bomb, Brown, Canade, Woola, Woolie, Woo-Woo
marijuana & cocaine: Banano, Basuco, Bazooka, Bush, Chase, Cocktail, Cocoa Puff, Hooter, Jim Jones, Lace
marijuana & crack cocaine: Buda, Butter, Crack Back, Fry Daddy, Geek, Juice Joint
marijuana & LSD: Beast, LBJ
marijuana & PCP: Ace, Bionic, Bohd, Chips, Frios, Wet, Zoom
Marijuana Use Slang Terms
People who regularly use marijuana may use other slang terms, such as:
bong: a device used for smoking weed that resembles a small bowl
dabbing: consuming dabs (concentrated forms of marijuana)
doobie or fatty: a marijuana cigarette
munchies: increased appetite caused by marijuana
stoner: someone who regularly uses marijuana
toke: to smoke marijuana
vape: placing marijuana oil, marijuana concentrates, or dry marijuana in a vaporizer and inhaling the resulting vapors
There are also numerous terms for getting high on marijuana, such as:
biting one's lips
blazing
blasting
blowing
burning one down
chasing
cheeching
firing one up
getting the wind
hitting the hay
mowing the grass
smoking trees
torching up
Other Signs Of Marijuana Abuse & Addiction
Many people use the above terms to hide their marijuana abuse. Other signs that someone is abusing or addicted to marijuana include:
bloodshot eyes
frequently using eye drops, body spray, or mouthwash to hide bloodshot eyes and marijuana smells
mood swings
a sudden decrease in motivation
withdrawing from friends and family
neglecting responsibilities at work or school
If you're concerned that someone you love is abusing or addicted to marijuana, please contact an Ark Behavioral Health specialist to learn about our substance abuse and addiction treatment options.
Written by Ark Behavioral Health Editorial Team
©2023 Ark National Holdings, LLC. | All Rights Reserved.
This page does not provide medical advice.
Questions About Treatment?
Ark Behavioral Health offers 100% confidential substance abuse assessment and treatment placement tailored to your individual needs. Achieve long-term recovery.
100% confidential. We respect your privacy.
Prefer Texting?
Our friendly support team is here to chat 24/7. Opt out any time.