Drinking Vodka Straight | Effects & Risks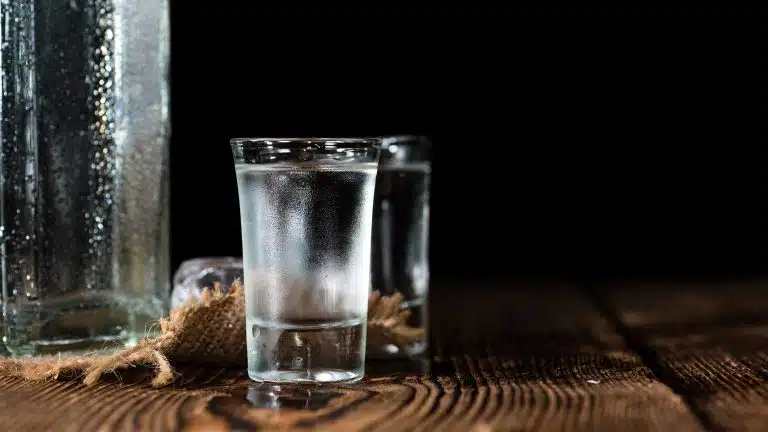 Drinking vodka without mixing it with other ingredients is known as drinking it "straight" or "straight up." Drinking vodka straight is done with a shot glass or in an old-fashioned (lowball) glass with ice cubes.
Premium vodka brands are popular to drink straight, due to their smoothness and high-quality distilling processes. Vodka brands you may see drunk straight include Belvedere, Tito's, Stolichnaya (or Stoli), and Absolut vodka.
Vodka has a high alcohol content, so drinking it straight will likely lead to getting drunk. Drinking it straight can also hurt your health in ways that mixing it may not.
Effects Of Drinking Vodka Straight
Drinking vodka straight means ethanol will go right to your bloodstream, liver, and other parts of your body. There are no other ingredients to affect alcohol absorption when you drink vodka, and your blood alcohol levels may go up much faster when drinking pure vodka.
A shot of vodka alone will likely have fewer calories than a mixed drink or cocktail with vodka, which can make pure vodka appealing if you're on a diet or watching your health.
Risks Of Drinking Vodka Straight
Drinking vodka straight can be unpleasant for some. It can also change how your body breaks down alcohol.
High Levels Of Impairment
You may get drunk much faster, and more intensely, by drinking vodka straight. By the time you are drunk, it may be too late to stop you from feeling the effects. Alcohol concentrations in your blood will also go up faster.
High blood alcohol levels and severe impairment can increase your risk of:
risky decisions (drunk driving, unprotected sex)
vomiting
dehydration
feeling hungover the next day
Drinking Cheap Vodka Straight
Cheap or "bottom shelf" vodka brands tend to be stronger, have bitter aftertastes, and burn more when swallowed. This may be because they are distilled more times than premium vodka, leading to a stronger feel and more burning.
Cheaper vodka brands that you may want to be careful about drinking straight include:
Svedka
Smirnoff
Ciroc
Skye
New Amsterdam
Popov
flavored vodkas
Long-Term Risks
Drinking vodka straight leads to faster alcohol absorption in the body. In the long-term, the body may get used to having large amounts of vodka in the body faster.
When your body is used to having alcohol in its system, this can lead to dependence and tolerance. A body in this state needs alcohol to function, as well as more alcohol than when you first started drinking.
Vodka, like other types of alcohol, can also hurt your health in the long term. Alcohol is linked to long-term damage to many parts of the body, including the liver, heart, stomach, and even the brain.
Alternatives To Drinking Vodka Straight Up
There are other ways to drink vodka than drinking it out of a shot glass. Vodka cocktails and mixed drinks are also popular since vodka is easily masked by other flavors.
Popular alcoholic beverages with vodka include Screwdrivers, Cosmopolitans, and the Bloody Mary. These drinks use orange juice and cranberry juice, and tomato juice respectively, beverages with high sugar content that can help with your body's alcohol absorption.
Vodka martinis are also mixed drinks, but they contain high amounts of vermouth (a strong fortified wine), and may not be the best choice if you're watching your alcohol consumption.
Not Drinking Vodka
If you're put off by the burning feeling of vodka, or if you're concerned about the potential health effects, you may be thinking about staying away from vodka entirely. If you are used to drinking vodka straight, you may be worried that vodka is affecting other parts of your life.
Drinking problems can hurt people's lifestyles and relationships. Before you get to that point, you may want to look for help. To find a dedicated alcohol abuse treatment program for yourself or a loved one, please contact our helpline today.
Written by Ark Behavioral Health Editorial Team
©2023 Ark National Holdings, LLC. | All Rights Reserved.
This page does not provide medical advice.
Questions About Treatment?
Ark Behavioral Health offers 100% confidential substance abuse assessment and treatment placement tailored to your individual needs. Achieve long-term recovery.
100% confidential. We respect your privacy.
Prefer Texting?
We've got you covered.
Receive 24/7 text support right away.
There is no obligation and you can opt out at any time.