Vodka Alcohol Content | How Much Alcohol Is In Vodka?
Published
on

September 13, 2021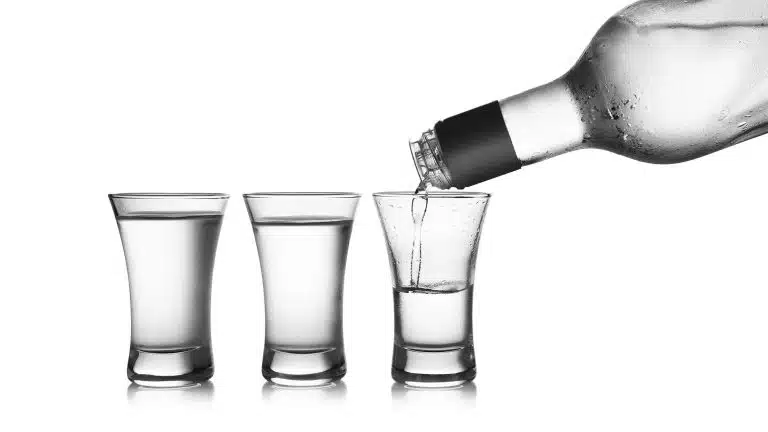 The standard alcohol content for vodka is 40 percent alcohol by volume, or 40% ABV. 40% ABV is also known as 80 proof in the United States.
The two main ingredients of vodka are water and ethanol (also known as ethyl alcohol). Vodka is traditionally made through fermentation and distillation of grains into liquid. Rye, wheat, corn, potatoes, and soybeans may all be used to make vodka.
Vodka has a higher ABV than most beers, malt liquors, and wines, and has around the same ABV as tequila. It has a lower ABV than more potent types of alcohol, like absinthe or Everclear.
Vodka can be mixed into many drinks due to its lack of flavor, potentially increasing overall alcohol levels.
Amount Of Alcohol In Popular Vodka Products
Due to large serving sizes in the U.S., many popular drinks including vodka may have more alcohol than a standard drink. One way to tell the alcohol concentration in your drink is by looking at proof, which is listed on labels as twice the alcohol by volume.
80 proof, which is average for vodka, means the vodka is 40% alcohol by volume. The CDC recommends you have no more than 2 standard drinks per day for men, and no more than 1 standard drink per day for women. This can minimize your health risk due to alcohol.
A standard drink is any drink that contains 0.6 ounces of pure alcohol. Since most vodka has a 40% ABV or 80 proof, an alcoholic beverage with 1.5 ounces of vodka would meet the requirements for a standard drink.
Vodka Brands
Absolut Vodka, Smirnoff, Seagram's, and Grey Goose vodka can be found at many stores with 80 proof, or 40 percent alcohol by volume. Vodka can sometimes be much stronger, with the Polmos Spirytus brand being sold at a potentially dangerous 192 proof (96% ABV).
Some vodka brands are described as distilled multiple times. Distilling vodka multiple times at a distillery can help remove impurities, which may result in a more pure product. It can also make vodka stronger.
Looking at the proof or alcohol by volume on vodka labels are good ways to tell how much alcohol they contain. If a distiller has distilled their vodka multiple times, it may also be stronger than other vodkas.
Alcoholic Drinks Containing Vodka
Vodka is a popular ingredient in mixed drinks, due to its lack of flavor and compatibility with other liqueurs and spirits. Some recipes for mixed drinks call for an amount of vodka that passes the standard drink limit, making these drinks more potent and dangerous.
A Cosmopolitan is a mixed drink that is usually one part vodka, one part Triple Sec or Cointreau (orange-flavored liqueur), one part lime juice, and one part cranberry juice. Popular cosmopolitan recipes call for 1 and 1/2 fluid ounces vodka and 1/2 to 1 fl oz Cointreau.
A screwdriver is a drink made with 1 and 1/2 fl oz vodka and orange juice, while a Bloody Mary is made with 1 and 1/2 fl oz vodka, tomato juice, and a variety of spices and vegetables. If you go over the serving size for any of these drinks, they can easily go over the standard drink limit.
Vodka & Alcohol-Related Problems
Like other types of alcohol use, drinking too much vodka can lead to health problems. If you are not careful when mixing your own drinks, or if you order drinks with too much vodka when you're out at a bar, you may put your health at risk.
Constant excessive drinking can be harmful to your liver, throat, colon, and other parts of your body. Your long-term health may be at risk, including your mental health, if you have a hard time controlling your alcohol use.
If you feel like you are no longer drinking to enjoy yourself, or that drinking is hurting other parts of your life, you may benefit from professional help. To find an alcohol treatment program that works for you, please contact us today.
Written by Ark Behavioral Health Editorial Team
©2023 Ark National Holdings, LLC. | All Rights Reserved.
This page does not provide medical advice.
Questions About Treatment?
Ark Behavioral Health offers 100% confidential substance abuse assessment and treatment placement tailored to your individual needs. Achieve long-term recovery.
100% confidential. We respect your privacy.
Prefer Texting?
We've got you covered.
Receive 24/7 text support right away.
There is no obligation and you can opt out at any time.