Is Tequila A Depressant?
Published
on

September 22, 2021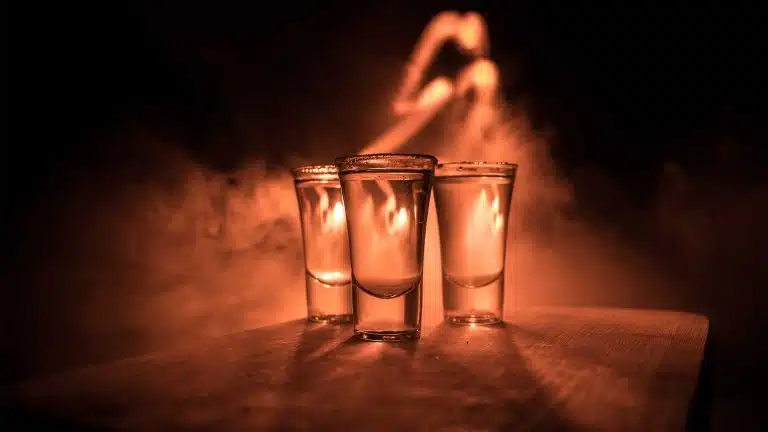 Tequila is alcohol/ethanol, making it a central nervous system depressant—all alcoholic drinks are depressants.
When alcohol makes it to the brain, it blocks and inhibits receptors causing a sedating effect.
Alcohol slows brain activity and can cause sleepiness, slowed coordination, and slurred speech. No matter how upbeat you feel after drinking tequila, it will eventually act as a depressant.
What Is Tequila?
Tequila is a distilled spirit that's made from the fermented juices of the blue agave plant. After going through the fermentation and distillation process, tequila is bottled or aged in oak barrels.
It can only be produced in Mexico to be classified as true tequila and is made in multiple Mexican states. While there are lots of ways to drink tequila, it's most often served in mixed drinks and shots.
Tequila can also be considered a type of mezcal because it's made with agave. Tequila has an alcohol content of 40% alcohol by volume (ABV).
There are five different types of tequila:
clear tequilas: called blanco tequila and unaged
gold tequilas: unaged but mixed with caramel or other additives
reposado: aged for at least two months in wood casks (Jose Cuervo is a popular brand)
añej: aged for 18 months to three years in oak barrels or used bourbon barrels
extra-añejo: aged for over three years in oak barrels
Is Tequila A Stimulant?
Some people drink tequila and feel energized so they think it's a stimulant. However, based on multiple studies, that's not the case.
This energetic feeling, or being more social, is the alcohol depressing self-control and lowering inhibitions. If you drink enough over a period of time, the rest of your body will likely feel the depressive symptoms as well.
The increase in energy could also be attributed to sugar in a margarita or mixed drink, leading to a spike in blood sugar. But once the sugar wears off, the depressive effects will likely set in.
Tequila's Placebo Effect
The perception that tequila is a stimulant may explain why some people feel stimulated when they drink it. It's the same concept as the placebo effect. The perception that tequila will up their energy can be enough to make someone feel that way.
Effects Of Tequila
When you take a sip of tequila, the alcohol inhibits neurons and blocks receptors in your brain, causing a depressive effect. This leads to an increase in dopamine and serotonin and a decrease in glutamate, the chemical that nerve cells use to talk to each other.
Drinking too many alcoholic beverages in a short time, otherwise known as binge drinking, can lead to harmful effects like blackouts, alcohol poisoning, and impaired coordination.
If you or a loved one struggles with alcohol abuse, contact us today to learn how we can help.
Written by Ark Behavioral Health Editorial Team
©2023 Ark National Holdings, LLC. | All Rights Reserved.
This page does not provide medical advice.
Questions About Treatment?
Ark Behavioral Health offers 100% confidential substance abuse assessment and treatment placement tailored to your individual needs. Achieve long-term recovery.
100% confidential. We respect your privacy.
Prefer Texting?
We've got you covered.
Receive 24/7 text support right away.
There is no obligation and you can opt out at any time.