Risks Of Taking Shots Of Tequila To Get Drunk
Published
on

September 22, 2021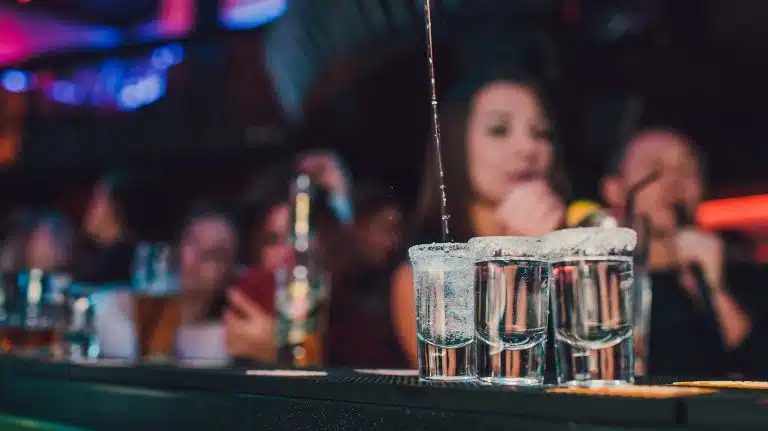 It only takes between two to three shots of tequila to be considered legally drunk. If you're trying to get drunk quickly, drinking tequila might seem appealing due to its high alcohol content by volume, or ABV.
In the United States, you must have a blood alcohol concentration of 0.08% or higher to be legally drunk. For an average person weighing 150 pounds, it will take between two to three 1.5 fluid ounce shots of tequila to go over this limit.
Once you are legally drunk, it is illegal to drive a motor vehicle due to severe impairment. Not everyone will get drunk on the same amount of alcohol, due to differences in body weight, genetics, and drinking alcohol with food.
Effects Of Taking Tequila Shots
Shots of tequila may be taken with the sole purpose of getting drunk. Tequila is 40% pure alcohol made from the blue agave plant and is a fairly strong distilled spirit.
Alcohol consumption slows down activity in your brain, which can affect functions in the rest of your body. When you are drunk on tequila, you may experience:
impairment
difficulty concentrating
changes in mood
slurred speech
sedation
One-Shot Is One Standard Drink
Just 1.5 ounces of pure tequila is enough for one standard drink. A standard drink is a measurement for responsible drinking. Going over this limit is a form of excessive drinking, which can be dangerous.
Factors That Affect Alcohol Absorption
Every person is affected by tequila differently. Food and carbohydrates can slow down alcohol absorption and lead to a lower blood alcohol content compared to drinking on an empty stomach.
Women tend to feel the effects of alcoholic beverages more than men because women have less blood for alcohol to flow through on average. It also takes less standard drinks for women to reach high BAC levels than men of similar body weight.
Genetics can also affect alcohol absorption, as some people are born with different forms of dehydrogenase. Dehydrogenase is an enzyme that breaks down ethanol, so people with different forms of this enzyme may not metabolize alcohol as well.
Risks Of Getting Drunk On Tequila
Like any other alcoholic beverage, drinking too much tequila comes with a number of immediate risks. Since tequila has a high alcohol content, it may be easy to drink too much of it if you are not careful.
Risky Decisions
Too much alcohol in your body impairs your judgment, thinking, and coordination. People who are intoxicated have a higher risk of being involved in risky behavior, including unprotected sex, driving while under the influence, and acts of violence.
How alcohol affects decision-making is still being studied. One study showed that alcohol may suppress parts of the brain involved with detecting danger while activating parts of the brain involved with reward.
It is generally agreed that people who cannot control their drinking on a regular basis are at an even higher risk than people who occasionally binge drink.
Alcohol Poisoning
Alcohol poisoning happens when your blood alcohol level is 0.16% or higher. The specific BAC may vary from person to person, but too many alcoholic drinks can cause alcohol poisoning regardless of other factors.
Alcohol poisoning prevents your brain from carrying out basic functions, and can be life-threatening. In the case of hard liquors like tequila, it may take as few as 4 shots of tequila to get alcohol poisoning, depending on your body weight.
Symptoms of alcohol poisoning include:
vomiting
unconsciousness
confusion
seizures
clammy skin
Hangovers
A hangover is any combination of dry mouth, nausea, dizziness, aches, sensitivity to light, and other symptoms that happen the next day after drinking alcohol.
It is unknown what exactly causes hangover symptoms the next morning, but too much alcohol the night before (in the form of binge drinking or experiencing a blackout) is the most common link between hangovers. Your body may not be able to metabolize tequila faster than you drink it.
Hangovers are more unpleasant than dangerous on their own, but a hangover may impair your daily routine because of how long it can last into the next day.
Addressing Unhealthy Drinking Habits
Tequila is often enjoyed by taking shots out of shot glasses or mixing it into a margarita. These methods make it relatively easy to feel drunk after only one or two drinks.
While some people can be content with drinking occasionally, others have a hard time controlling their drinking habits.
Tequila can put your short-term and long-term health at risk. Alcohol use disorders, which include alcohol dependence and addiction, can be caused by drinking tequila alone.
To find help for a potentially unhealthy tequila drinking habit, please contact our helpline today.
Written by Ark Behavioral Health Editorial Team
©2023 Ark National Holdings, LLC. | All Rights Reserved.
This page does not provide medical advice.
Questions About Treatment?
Ark Behavioral Health offers 100% confidential substance abuse assessment and treatment placement tailored to your individual needs. Achieve long-term recovery.
100% confidential. We respect your privacy.
Prefer Texting?
We've got you covered.
Receive 24/7 text support right away.
There is no obligation and you can opt out at any time.