What Is Heroin Cut With? | Cutting Agents & Risks Of Use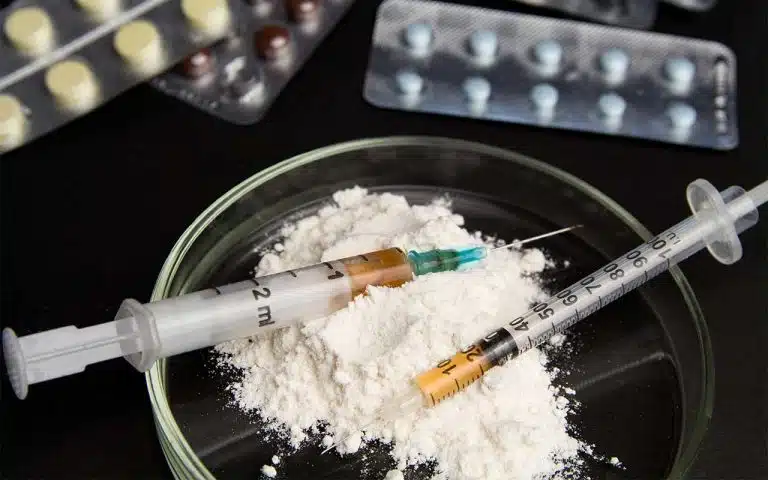 Heroin is "cut" with many different substances, ranging from common substances (powdered milk, sugar, and quinine) to other drugs (caffeine, fentanyl, paracetamol, and amphetamines).
These cutting agents are also known as adulterants, impurities, or fillers, and can reduce the effects of heroin and purity of the drug when mixed together.
Heroin that contains additives can be dangerous and even fatal.
Different Types Of Heroin Cutting Agents
While cutting agents, adulterants, diluents, fillers, and contaminants all refer to ingredients added to drugs, they have slightly different meanings.
Diluents & Fillers
Diluents and fillers both refer to ingredients that add no effect to the drug they are added to. Sugar and starch are both diluents and fillers, and are mostly there to increase the amount of the drug sold.
Adulterants
Adulterants change or enhance the effects of the drugs they are added to. Caffeine is an adulterant which can increase the stimulant effects of cocaine, or counteract the effects of heroin.
Contaminants
Contaminants are unintentionally added ingredients. Drugs that come into contact with other substances during packaging may be contaminated.
Why Heroin Is Cut?
Adding other ingredients to heroin can allow drug dealers to make more money. Dealers can sell heroin cut with other ingredients in larger quantities.
It can be difficult for unsuspecting heroin users to notice impurities in the powder or liquid, especially if the cutting agents look similar to the heroin itself.
Depending on the form of heroin used, different substances can be cut without a buyer noticing. White powder heroin can be mixed with other white powders, such as lidocaine, caffeine, sucrose, starch, and even laundry detergent.
Black tar heroin, a sticky black substance mostly produced in Mexico, can be cut with lactose or even shoe polish.
How Cutting Agents Affect Purity
Studies conducted in the United Kingdom focused on heroin purity in illicit drug markets. From 2013 to 2019, reported heroin samples varied between 30% and 48% purity. Illicit drugs like heroin can see widespread use even when they are not completely pure.
Risks Of Cut Heroin Use
Like other street drugs, it can be difficult to tell how pure street heroin is, which makes snorting it dangerous. Different drug dealers may put different amounts of adulterants or fillers into the heroin, which can lead to a wide range of potential effects.
Unpredictability Of Negative Effects
The side effects of injecting or snorting cut heroin can vary, depending on the substances it was cut with.
Some agents, such as caffeine, can balance out the sedative effects of heroin by serving as a stimulant. Others, such as laundry detergent, are not meant to be ingested, and can be dangerous to your health.
An average drug user may not be able to tell what else is in their heroin until they've taken it. By then, it may already be too late to stop the negative effects.
Fentanyl
Fentanyl, a fast-acting synthetic opioid, is especially dangerous when mixed with heroin. Fentanyl will increase the effects of heroin on the body and is commonly mixed in with street heroin.
The amount of overdose deaths caused by fentanyl and heroin has increased over the last several years.
Heroin Overdose
The risk of overdosing may increase with street heroin. Heroin overdose can cause severe respiratory depression, and can even limit the amount of oxygen going to the brain. This can cause severe permanent damage, up to and including death.
The CDC reports tens of thousands of heroin overdose deaths over the past several years. Though overdose is treatable, immediate medical attention is required to increase one's chances of recovery.
Heroin Addiction
Heroin is a Schedule I controlled substance in the United States, with a high risk of substance abuse and potential for addiction. Its presence in illegal drug markets makes it difficult to regulate, and increases its availability for a wide range of people.
People who use heroin illegally may fall into a heroin addiction, which can cause long-term health effects, social problems, and more.
Treating Heroin Addiction
Heroin is a potent opiate that sees significant amounts of drug use. Its status as an illicit substance leads many variants being produced on the street, which can be difficult to track and detect.
To learn more about heroin addiction treatment, please contact us today.
Written by Ark Behavioral Health Editorial Team
©2023 Ark National Holdings, LLC. | All Rights Reserved.
This page does not provide medical advice.
Questions About Treatment?
Ark Behavioral Health offers 100% confidential substance abuse assessment and treatment placement tailored to your individual needs. Achieve long-term recovery.
100% confidential. We respect your privacy.
Prefer Texting?
Our friendly support team is here to chat 24/7. Opt out any time.