Drinking Overproof Rum | Overview, Effects, & Risks
Published
on

September 28, 2021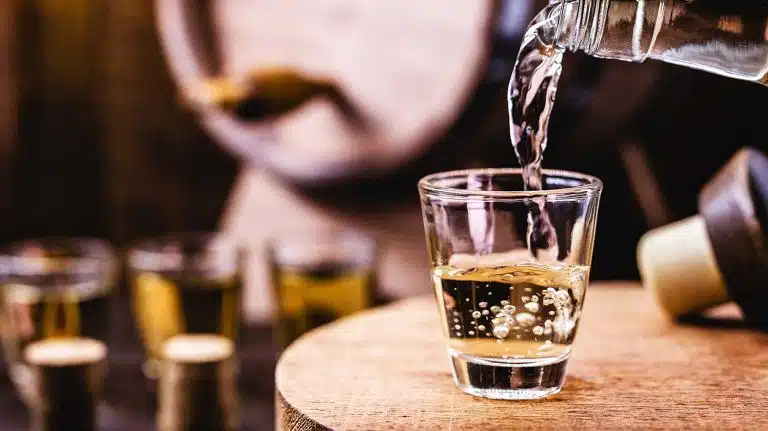 Overproof rum is known as "navy strength" because of its potency and how it was first made.
The main difference between regular rum and overproof is the amount of alcohol in it. Overproof rum is high-proof alcohol that's stronger than other types of rum.
What Is Overproof Rum?
Overproof rum is a rum with an ABV (alcohol by volume) of about 57.5%. This means it has to be at least 114-115 proof. This is much higher than regular rum which has an ABV of 40% or 80 proof.
Overproof rum is popular in the Caribbean. Brands like J. Wray & Nephew White Overproof Rum, Bacardi, and Cruzan can go up to 75.5% ABV or 151 proof. This makes for a very strong drink that can be dangerous in large quantities.
Because of its strength, it's most often used in mixed drinks like daiquiris although some people drink it straight. Because the US has a limit on the proof of alcohol that can be shipped from another country, any overproof rum you find is probably going to be in the 150 proof range.
Some overproof rums include Bacardi 151, Hampden Estate Rum Fire Overproof, Lemon Hart 151, Smith & Cross, Gosling's 151, and Worthy Park Overproof.
History Of Overproof Rum
This rum originally got its name when British Royal Navy officers used to test the quality of the rum by using gunpowder. If the gunpowder still lit up after being soaked in rum, that meant it was of high quality and plenty strong.
This is why some overproof rums are also advertised as "navy strength" or gunpowder proof.
How Is Overproof Rum Made?
Most rum produced today is made with sugar cane and goes through a distillation process to remove any of the impurities. This leads to a spirit that is anywhere from 160-190 proof. Normally, the alcohol is diluted through aging and blending to bring it down to 80 proof.
That's not the case with some overproof rums. It's not diluted at all and bottled at its full strength. However, some are diluted a little bit but nowhere near as much as normal rum is.
Most overproof rum is made in the Caribbean, especially in Jamaica. Jamaican rum is very popular in this region.
Effects Of Drinking Overproof Rum
Increasing the alcohol content and proof of the rum comes with consequences. Higher alcohol content means you should drink less of it. The CDC recommendation for 80-proof rum is 1.5 ounces. It's going to be much less for rum that's 115-151 proof.
Drinking overproof rum excessively can lead to a lot of negative effects including
nausea
vomiting
impaired judgment
impaired coordination
Risks Of Drinking Overproof Rum
There are also risks that come with drinking overproof rum excessively, especially over a long period of time. Some of the long-term health effects and risks of drinking overproof rum or other strong alcoholic drinks may include:
To learn how we treat alcohol use disorder and other drinking problems, please contact us today.
Written by Ark Behavioral Health Editorial Team
©2023 Ark National Holdings, LLC. | All Rights Reserved.
This page does not provide medical advice.
Questions About Treatment?
Ark Behavioral Health offers 100% confidential substance abuse assessment and treatment placement tailored to your individual needs. Achieve long-term recovery.
100% confidential. We respect your privacy.
Prefer Texting?
Our friendly support team is here to chat 24/7. Opt out any time.