How Rum Is Made | Ingredients & Production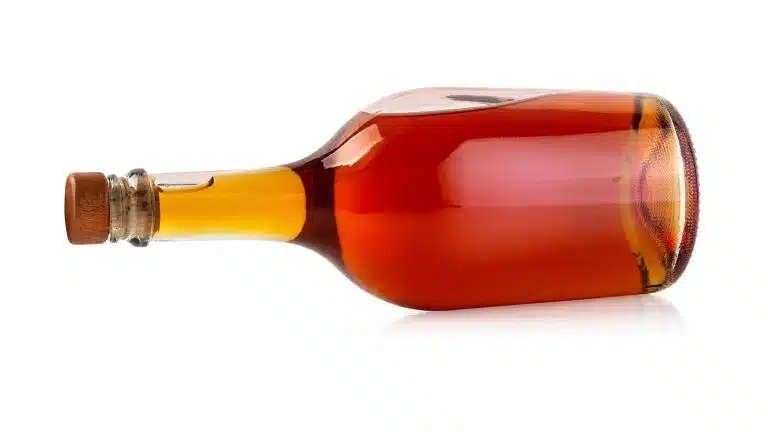 Rum is an alcoholic liquor that's made from sugarcane. Rum making is a complex process that produces many different types and varieties.
Rum Ingredients
Rum is primarily made of sugarcane. Either the juice is pressed from the cane and made into rum or sugar is extracted from the cane juice and molasses is made. After that, water and yeast are mixed in and that's fermented and distilled into rum.
How Is Rum Made?
Rum production is pretty complex. It goes through a number of different stages including:
Harvesting
The sugarcane is cut close to the ground right near the ground using a machete. The closer to the ground, the higher the concentration of sugar. Then the leaves are cut off and the cane is readied for the extraction process.
Extraction
The sugarcane is pressed to extract the cane juice and water. Sugar is then extracted from the cane juice. The process produces molasses as a byproduct. The molasses is then fermented and distilled to make rum. The majority of rum is made using molasses.
Some manufacturers boil the molasses to remove water which turns it into cane syrup. The cane syrup is eventually fermented into rum.
Fermentation
Fermentation is when yeast converts sugar into alcohol. Whether cane juice or cane syrup is used, they are then fermented with water and yeast to produce a mixture that has an alcohol content, or alcohol by volume (ABV), of 5-10%.
Fermenting takes anywhere from 24 hours to 3 weeks. It all depends on the kind of rum the distiller is looking to produce.
When the fermentation process is short, it's likely for making white rum. For darker rum, the fermentation process is slow and takes much longer.
Distillation
There are two different methods to distilling rum: copper pot process and column still process.
The copper pot is the original type of still. It works by heating low-proof alcohol in a large covered kettle. The alcohol turns to vapor while the water remains liquid. The vapor is collected and condensed back into a liquid to make rum.
A column still is also called a continuous still because it can run continuously at the distillery. It also produces stronger alcohol. After distillation, the alcohol content is around 40% ABV.
The sugarcane mixture is fed into the still and heated until it steams. The alcohol rises, condenses, and is collected.
Then the condensed vapor is redistilled and heated back up into vapor. This is done continuously and makes the rum purer.
Aging
Most rum gets its flavor from the aging process. It's aged in either stainless steel vats or in oak barrels. Stainless steel is used for white rum while oak barrels are used for dark rum. Whiskey and bourbon barrels can also be used.
The time it takes to age depends on the type of rum being made. Dark rum is aged longer than white rum. The aging process helps create flavor, color, and gives it a smooth feel. Rum can be aged anywhere from two years to a couple of decades.
Blending
Blending is the last process in making rum. It's when the distiller can make changes to the flavor and character of the rum. It's all about blending light and dark rum with different distillation processes. After this step, the final product is sent off for bottling.
Types Of Rum
There are several different types of rum, including:
white/light rum: lightest in flavor, aged for 3 months to a year, distilled in stainless steel casks, often used in mojitos
gold/aged rum: golden or amber hue due to the barrel it's made in can be aged, gets its color from additives
dark rum: the result of double distillation; made to be sipped because of the intensity of flavor
flavored/spiced rum: spices and flavors are added to rums made with molasses or sugar cane syrup
Rhum Agricole: made from sugarcane juice in the French Caribbean
cachaça: made directly from sugarcane juice in Brazil
overproof rum: ABV ranges from 50-75.5%
If you have trouble controlling your rum intake, contact us today to learn how we can help.
Rum FAQS
How Much Alcohol Is In Rum?
Rum is a distilled spirit that contains 40 percent alcohol by volume (ABV), otherwise known as 80 proof. Since there are different types of rum, the ABV can vary.
For instance, overproof rum has 75.5 percent ABV. This is the equivalent of 151 proof. Always check the label to know the exact content of alcohol.
Learn more about Rum Alcohol Percentage
What Is Overproof Rum?
Overproof rum is any rum that is over 100 proof, but it likely starts at around 57% ABV or 114 proof. Routinely drinking strong alcoholic drinks can increase the risk of harmful effects.
Learn more about Drinking Overproof Rum
What's The Difference Between White Rum & Dark Rum?
White rum and dark rum differ in color, taste, how long they're aged, and how people tend to drink them.
Learn more about White Rum Vs. Dark Rum
Written by Ark Behavioral Health Editorial Team
©2023 Ark National Holdings, LLC. | All Rights Reserved.
This page does not provide medical advice.
Questions About Treatment?
Ark Behavioral Health offers 100% confidential substance abuse assessment and treatment placement tailored to your individual needs. Achieve long-term recovery.
100% confidential. We respect your privacy.
Prefer Texting?
Our friendly support team is here to chat 24/7. Opt out any time.