What Does Hydrocodone Look Like?
Published
on

July 28, 2023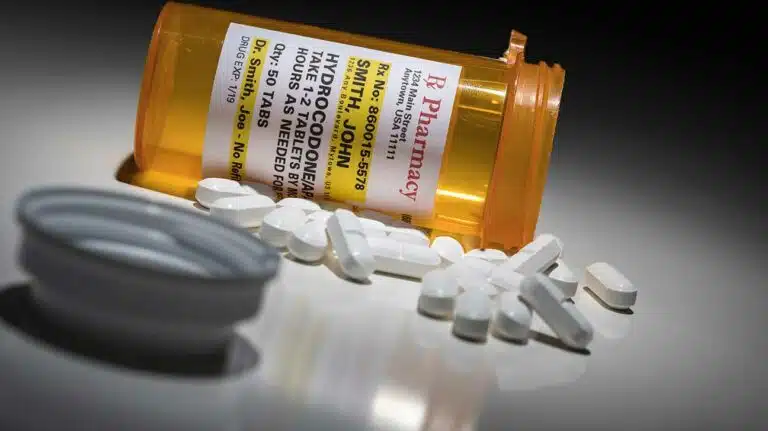 Hydrocodone is available in tablets and capsules, but can be found in a variety of colors made by a number of manufacturers.
No matter what your hydrocodone pills look like, abusing the drug can lead to serious adverse effects like dependence and hydrocodone addiction.
Hydrocodone is a semi-synthetic opioid analgesic used as a painkiller to treat severe pain. It's primarily prescribed for those who have tried other medications that haven't worked.
The prescription opioid works by changing the way the brain and central nervous system respond to pain. It's also often mixed with other drugs like acetaminophen.
Hydrocodone Colors & Shapes
Hydrocodone pills and hydrocodone combination products come in many different colors and shapes. What color or shape they are depends on the dosage, what ingredients are included, and who the manufacturer is.
White Capsules
There are a few different white capsule-shaped pills that contain 325 mg of acetaminophen and 10 mg of hydrocodone bitartrate. One is made by Mallinckrodt Pharmaceuticals, another is made by Amneal Pharmaceuticals, and another is manufactured by Ascent Pharmaceuticals, Inc.
There are also a couple of white capsules that contain 325 mg of acetaminophen and 5 mg of hydrocodone bitartrate. These are supplied by Amneal Pharmaceuticals, Mallinckrodt
Pharmaceuticals, and Sun Pharmaceutical Industries Inc.
The only difference in how they look is the imprint on each pill.
You can also find another white, capsule-shaped pill with 325 mg of acetaminophen and 7.5 mg of hydrocodone bitartrate that's supplied by Mallinckrodt Pharmaceuticals.
White Oval Tablets
There are also a couple of white oval pills with 325 mg of acetaminophen and 5 mg of hydrocodone bitartrate. They are supplied by Actavis Pharm Inc. and Mallinckrodt Pharmaceuticals.
Beyond those, there are also white oval-shaped pills by Sun Pharmaceutical Industries that contain 325 mg of acetaminophen and 10 mg of hydrocodone bitartrate.
Watson Pharmaceuticals also makes its own hydrocodone/acetaminophen pills. They make a white oval-shaped pill with red dots that contains 325 mg of acetaminophen and 5 mg of hydrocodone bitartrate.
Orange
You may also find hydrocodone pills that are orange in color and oval in shape.
These pills are manufactured by Watson Pharmaceutical and Qualitest Pharmaceuticals Inc. and contain 325 mg of acetaminophen and 7.5 of hydrocodone bitartrate. The only difference in ideintification is the imprint on each pill.
Yellow
There are also a few yellow hydrocodone pills. One is oval and contains 325 mg of acetaminophen and 10 mg of hydrocodone bitartrate. It's made by both Qualitest Pharmaceuticals and Watson Pharmaceuticals.
There is also a hydrocodone bitartrate extended-release capsule that is 40 mg and made by Alvogen Inc.
Multi-Colored Capsules
There are quite a few multi-colored hydrocodone bitartrate capsules that are an extended-release formulation. They are generally yellow on one side and either blue, purple, pink, white, or gray on the other side. They are made by Alvogen Inc and come in 10, 15, 20, 30, and 50 mg doses.
Hydrocodone Imprints
What is imprinted on a pill depends on the dosage and the manufacturer. Knowing some specific imprints or learning what they mean can help you determine what's a legitimate pill and what's counterfeit. Some of the imprints you may see on hydrocodone pills include:
M367
IP 109
IP 110
T 259
G 035
M366
M357
WATSON 853
V3601
ALV 409
ALV 410
Hydrocodone Brand Names & Side Effects
Hydrocodone and hydrocodone combination products can be found under many different brand names. Some of the brand names of hydrocodone include:
Hysingla ER
Zohydro ER
Hycodan
Brand names of hydrocodone/acetaminophen products include:
Hycet
Lorcet
Lortab
Maxidone
Norco
Stagesic
Vicodin HP
Zydone
Side Effects Of Hydrocodone
No matter what the hydrocodone you're taking looks like, the pain medication is likely to bring on certain side effects. Some are mild and some are quite severe.
The most common side effects of hydrocodone and hydrocodone combination products include:
stomach pain
dry mouth
headache
back pain
constipation
drowsiness
sedation
lightheadedness
difficulty urinating
narrowing of the pupils
difficulty falling asleep or staying asleep
These side effects can become more intense if you're abusing or taking higher doses of the drug.
Hydrocodone Abuse Potential
The Food and Drug Administration (FDA) and the Drug Enforcement Administration (DEA) classify hydrocodone as a Schedule II controlled substance. This means it has a relatively high potential for abuse and can lead to severe psychological and physical dependence and addiction.
Besides hydrocodone, many other opioids in this category, such as oxycodone, fentanyl, hydromorphone, and codeine, also have a strong potential for abuse.
If you or a loved one lives with opioid or opiate addiction, contact us today for information on our inpatient and outpatient addiction treatment options.
Written by Ark Behavioral Health Editorial Team
©2023 Ark National Holdings, LLC. | All Rights Reserved.
This page does not provide medical advice.
Questions About Treatment?
Ark Behavioral Health offers 100% confidential substance abuse assessment and treatment placement tailored to your individual needs. Achieve long-term recovery.
100% confidential. We respect your privacy.
Prefer Texting?
Our friendly support team is here to chat 24/7. Opt out any time.