Penile Injection | Side Effects & Overview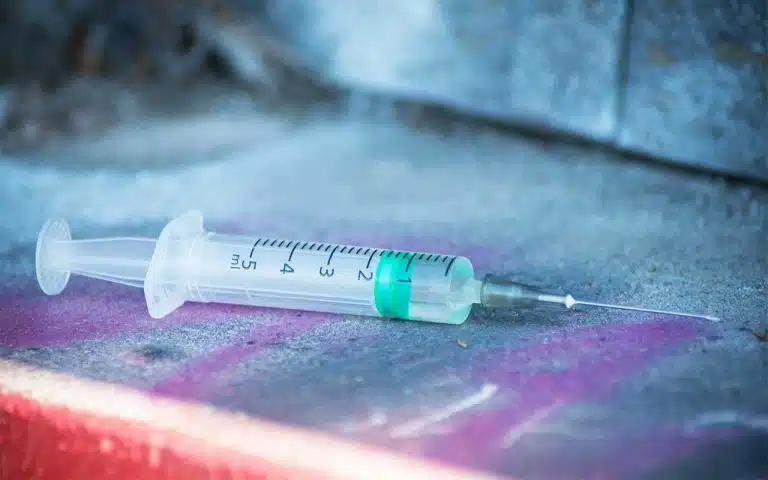 Genital drug injection is the practice of injecting drugs into the penis. Some erectile dysfunction drugs, such as prostaglandin or papaverine (Caverject, Trimix), are administered this way.
You inject them deep beneath the skin at the base of the penis (intracavernosal injection) and avoid surface blood vessels.
Though an uncommon practice, there have been reports of individuals who've injected cocaine, methamphetamine, and heroin into their genitals, often through the urethra or dorsal vein.
Why Do People Inject Drugs Into Their Genitals?
Some people abuse erectile dysfunction drugs to improve their sexual performance. Stimulant drugs like cocaine and methamphetamine also increase arousal and sexual pleasure. The idea is that injecting drugs directly into the penis produces a quicker and more intense effect in the desired area.
Genital drug injection may also be the last resort if you've been injecting drugs for a long time and have no other healthy veins.
Most people inject drugs into their arms. Over time, injection drug use causes collapsed veins and abscesses (swollen, pus-filled skin) at the injection site, so you have to find a new vein.
You might try a vein in your hands or legs. When those are ruined, there are still the heels and neck. But some people prefer the large veins in the penis to small neck veins. A large vein is harder to miss.
Dangers Of Genital Drug Injection
The penis isn't the safest place to stick a needle. But that's not the only danger associated with genital drug injection.
Bacterial Infections
Injection drug use causes bacterial infections because of dirty or shared syringes. Even if you don't use someone else's needle, you can get an infection from reusing a needle.
Bacterial infections can cause gangrene (death of tissue in the affected area). Gangrene spreads quickly. In some cases, a doctor must amputate a limb to stop the spread and save the rest of your body from decomposing.
One man showed up in the emergency room with priapism (a painful and prolonged erection) after injecting cocaine into his urethra. He got a bacterial infection, which collected in the blood from the priapism and spread throughout his body.
He ended up with blood clots in his genitals, back, chest, legs, and arms. Severe gangrene led to him having both legs and nine fingers amputated. His penis was so infected, it decayed and fell off.
The doctor in charge of this case said it was likely additives in the cocaine that caused such a severe reaction.
Unexpected Adverse Effects
It's rare to find pure cocaine (or heroin or methamphetamine). Street drugs are usually cut with various substances to stretch the supply. You don't know all the ingredients in these drugs, nor how the additives will affect you. You may have an allergic reaction or worse.
Penile injection of drugs may also have different effects from what you're used to.
Drugs that enter the urethra are absorbed by mucous membranes and may produce an effect similar to snorting (insufflation). Drugs injected into penile veins could have the same effect as injecting them into arm veins, but they might not. Is it worth the risk?
Overdose
Overdose is always a risk with drug abuse. While any method of taking drugs can lead to overdose, injection drug use is especially risky because it puts a strong dose directly into the bloodstream.
The human body builds a tolerance to most drugs that it takes regularly. If you take higher and higher amounts to get the same effect, your overdose risk goes up.
Addiction
A Kenyan writer interviewed two men in the Nairobi slums who injected drugs into their genitals up to 20 times per day.
Their drugs of choice were cocaine and heroin, and they did it because they had no other good veins. They didn't care about sex—their lives were consumed by addiction.
When you abuse drugs, it messes with your brain structure and your physical health. You start to have cravings that you can't resist, even if you try to cut back or stop. You may find yourself pulling away from loved ones and losing interest in things you once loved.
It's never too late or too soon to ask for help with substance abuse.
Find Care For Injection Drug Use
Injection drug use is a dangerous practice that can lead to devastating health consequences, no matter which part of your body you use.
If you or a loved one struggles with drug abuse, we're here for you. Ark Behavioral Health offers personalized treatment programs that meet you wherever you are in the battle with addiction. We nurture your physical and mental health as you heal from injection drug use.
Reach out to one of our specialists today for additional information. Calling us is free and confidential, and it could be your first step toward a better life.
Written by Ark Behavioral Health Editorial Team
©2023 Ark National Holdings, LLC. | All Rights Reserved.
This page does not provide medical advice.
Questions About Treatment?
Ark Behavioral Health offers 100% confidential substance abuse assessment and treatment placement tailored to your individual needs. Achieve long-term recovery.
100% confidential. We respect your privacy.
Prefer Texting?
Our friendly support team is here to chat 24/7. Opt out any time.