Whiskey Nose (Rhinophyma) | Meaning, Symptoms, & Treatment
Published
on

September 20, 2021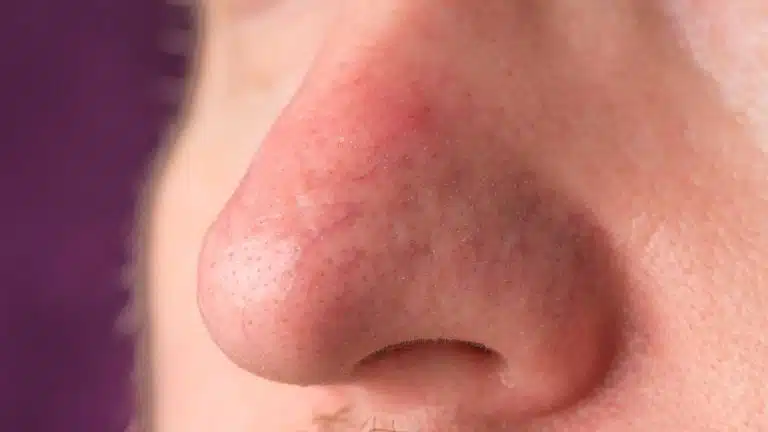 Whiskey nose is a slang term for a medical condition known as rhinophyma which is composed of the two Greek words rhino and phyma, with rhino meaning nose and phyla meaning swelling. It has also been referred to in the past as gin blossom, rum nose, potato nose, or toros nose.
Those who partake in alcohol consumption may be aware of the term nosing, which is when one takes their nose closer to their glass of whiskey and sniffs, inhaling the specific smell of the drink. This is further attributed to the term whiskey nose.
The medical name rhinophyma received the whiskey nose nickname due to the belief that alcohol causes the condition. However, there is no known link between alcohol and rhinophyma.
Symptoms Of Rhinophyma
Rhinophyma is a type of skin condition similar to rosacea that is primarily seen in white males. The condition causes the person to develop a bulbous nose which can appear swollen and lumpy.
This can occur when your sebaceous glands secrete too much sebum, which causes oily skin. This can lead to pus-filled patches on your skin including pimples as well as excess tissue.
Flushing, Rash, & Red Nose
Alcohol can cause your blood vessels to dilate which may make you experience flushing or a rash on your face similar to rosacea. If rosacea is left untreated, it can lead to rhinophyma.
Rosacea is a common skin condition that usually manifests itself as splotches of red skin, usually across the face and nose. A common symptom of rhinophyma is red nose. This is when the nose begins to exhibit redness.
Treating Rhinophyma
In order to help treat rhinophyma in the early stages, creams such as azelaic acid, topical retinoids, and metronidazole may help. Oral medicine such as isotretinoin and tretinoin may be of use as well.
For more severe cases of rhinophyma, one may need to undergo surgery. With cryosurgery, any unwanted tissue can be frozen off. Dermabrasion is a procedure that involves a rotating brush that gets rid of excess skin.
In addition to this, surgery may also involve using a scalpel to get rid of part of the skin or a carbon dioxide laser to help remove certain areas around the nose.
If you struggle with alcohol use and need professional help, contact us today to learn about our treatment options.
Written by Ark Behavioral Health Editorial Team
©2023 Ark National Holdings, LLC. | All Rights Reserved.
This page does not provide medical advice.
Questions About Treatment?
Ark Behavioral Health offers 100% confidential substance abuse assessment and treatment placement tailored to your individual needs. Achieve long-term recovery.
100% confidential. We respect your privacy.
Prefer Texting?
Our friendly support team is here to chat 24/7. Opt out any time.