Can You Snort Vyvanse? | Dangers Of Snorting Vyvanse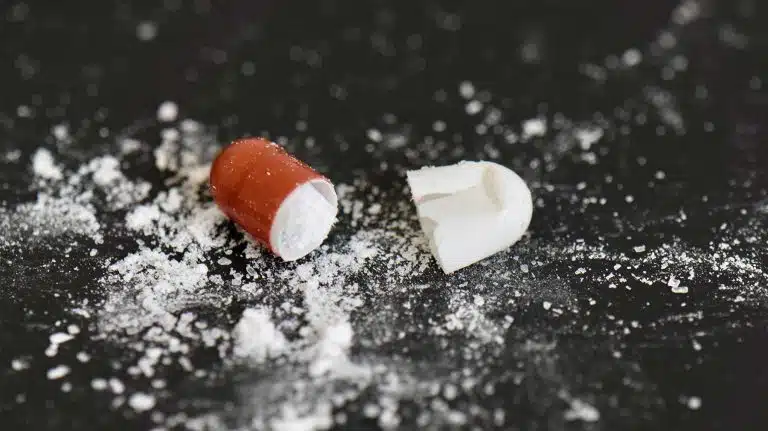 Vyvanse is the brand name for the stimulant medication lisdexamfetamine dimesylate (LDX). Stimulant medications are often abused by snorting to experience more rapid and intense effects. However, Vyvanse was created as a special type of drug that is more difficult to abuse.
Snorting Vyvanse is not likely to result in more intense effects or a rush of euphoria. However, snorting can result in dangerous health effects, including nasal damage, dependence, and overdose.
Snorting (Insufflating) Vyvanse
Vyvanse is a prescription stimulant used to treat attention-deficit hyperactivity disorder (ADHD) and binge-eating disorder. Prescription stimulant drugs often increase energy, alertness, and attention.
Along with Vyvanse, other stimulant medications include:
Focalin (dexmethylphenidate)
Ritalin (methylphenidate)
Adderall (amphetamine/dextroamphetamine)
Concerta (methylphenidate)
Sometimes people may abuse these medications by crushing the pill into a powder and inhaling through the nostrils. People misuse prescription drugs by snorting because it can cause a rush of euphoria and more rapid effects.
Why Snorting Vyvanse Is Ineffective
Vyvanse is in a class of drugs called "prodrugs", which are different from other stimulant medications. As a prodrug, Vyvanse must first pass through the digestive system before the drug produces any effects.
Prodrugs are inactive in the body until enzymes in the digestive system turn them into an active metabolites.
Vyvanse starts as lisdexamfetamine dimesylate and once it is metabolized, it turns into l-lysine dextroamphetamine (d-amphetamine). Dextroamphetamine is a central nervous system stimulant found in the ADHD medication Adderall.
Even when snorted, Vyvanse has to be digested and is not likely to produce effects any faster than taking it orally. This increases the risk that someone will take higher doses to achieve the desired effects.
Vyvanse Effects
Once Vyvanse is metabolized, it becomes active in your system and increases the effects of two neurotransmitters, dopamine, and norepinephrine. These neurotransmitters are associated with reward, attention, and alertness.
Vyvanse may also produce some unwanted side effects. Snorting Vyvanse increases the risk of experiencing these effects.
The most common side-effects of Vyvanse include:
anxiety
dry mouth
difficulty sleeping
decreased appetite
irritability
increased heart rate
increased blood pressure
constipation
dizziness
Stimulants can also increase heart rate and blood pressure, which can result in dangerous consequences. Snorting Vyvanse or taking too much could result in an irregular heartbeat, seizures, or cardiac arrest.
Dangers Of Snorting Vyvanse
The Food and Drug Administration (FDA) warns that stimulants like Vyvanse pose serious health risks.
Dangerous health effects that can occur from snorting Vyvanse include:
Nasal Damage
Vyvanse is not meant to be passed through the nasal passages and could contain potentially harmful components. Over time, this can cause severe damage to the nasal passages and roof of the mouth.
The specific effects of nasal damage include:
chronic sinus infections
runny nose
loss of sense of smell
nasal septum perforation (holes in the cartilage between nasal cavities)
respiratory infections
Cardiovascular Risks
Taking high doses of Vyvanse can significantly increase heart rate and blood pressure. If you have pre-existing heart problems, you have an increased risk of experiencing adverse effects.
Cardiovascular risks of snorting Vyvanse include:
cardiac arrest
stroke
heart attack
rapid heart rate
high blood pressure
Vyvanse Overdose
Taking more than the prescribed amount or snorting Vyvanse can result in a potentially life-threatening overdose. A stimulant overdose can be extremely dangerous and can occur after just one use.
Signs of Vyvanse overdose include:
tremors
rapid breathing
confusion
aggression
hallucinations
paranoia
fever
A Vyvanse overdose can result in cardiac arrest, heart attack, coma, or seizure. If you recognize any of these signs in a loved one, seek emergency help immediately.
Vyvanse Addiction
Although Vyvanse was developed to be a safer stimulant medication, it is a Schedule II controlled substance. Controlled substances carry a high risk of abuse and dependence, which can eventually lead to a Vyvanse addiction.
When someone is addicted to Vyvanse, they may take Vyvanse compulsively regardless of the consequences. If you think you or a loved one may be addicted to Vyvanse, there are numerous treatment options.
Vyvanse Addiction Treatment
Addiction is a complex disease that requires proper care and treatment. Addiction treatment centers offer several options, including detox, inpatient, and outpatient programs.
These programs allow a person to heal physically, mentally, and emotionally in a safe and supportive environment. Most treatment programs offer a variety of services, including counseling, group therapy, and healthy activities.
If you or a loved one is struggling with Vyvanse addiction, please contact Ark Behavioral Health to learn more about our treatment programs.
Written by Ark Behavioral Health Editorial Team
©2023 Ark National Holdings, LLC. | All Rights Reserved.
This page does not provide medical advice.
Questions About Treatment?
Ark Behavioral Health offers 100% confidential substance abuse assessment and treatment placement tailored to your individual needs. Achieve long-term recovery.
100% confidential. We respect your privacy.
Prefer Texting?
Our friendly support team is here to chat 24/7. Opt out any time.