Can You Snort Dextroamphetamine? | Dangers Of Snorting Dexedrine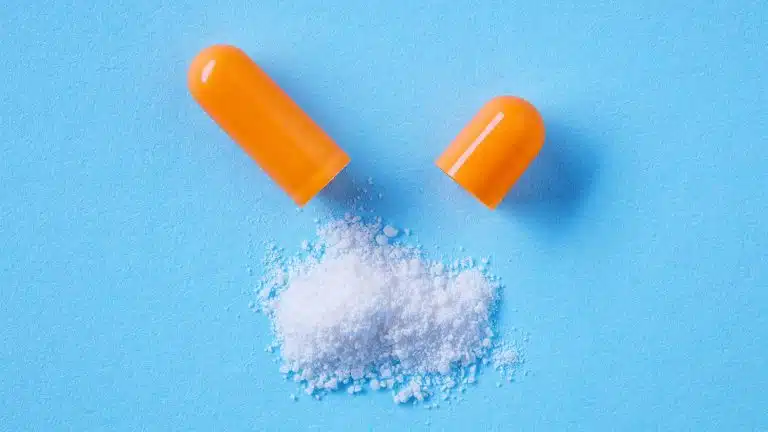 Dexedrine (brand name prescription for dextroamphetamine) is an amphetamine that comes in orange tablets and capsules that should be swallowed for proper use. Crushing and snorting Dexedrine are forms of substance abuse that can come with many side effects.
Dextroamphetamine capsules are sold as Dexedrine Spansule in extended-release formulations. Dexedrine tablets are immediate-release formulations. Both versions have high abuse potential.
Dexedrine is often prescribed to treat attention deficit hyperactivity disorder (ADHD), or narcolepsy, a sleep disorder. It may be snorted and abused by people with or without a Dexedrine prescription.
Side Effects Of Snorting Dexedrine
Dextroamphetamine is a central nervous system stimulant. Snorting Dexedrine often means taking high doses at once, which can overstimulate the central nervous system (CNS). This includes the brain, which can affect other vital functions in the body.
Snorting, also known as insufflation, can damage the nose. Immediate side effects of snorting Dexedrine can include:
nasal septum perforation (holes in the wall dividing the nostrils)
damage to blood vessels in the nose
aggressive behavior
dry mouth
loss of appetite
hypertension (increased blood pressure)
tachycardia (increased heart rate)
Reasons For Abusing Dextroamphetamine
Abusing dextroamphetamine can greatly increase brain activity, leading to a more intense "rush" than taking it as directed. Snorting a substance causes it to enter the bloodstream quickly since it does not have to be digested first.
People who abuse stimulant drugs and amphetamines often report increased alertness, euphoria, energy, and other side effects. These desirable effects may have contributed to their well-known street names of "speed," "uppers," and others.
People may also abuse Dexedrine if they feel like they have no other options. They may have severe cravings for amphetamines or worry about withdrawal symptoms. If this is happening to you or a loved one, you may need a dedicated addiction treatment program to help you recover.
Dangers Of Snorting Dexedrine
Dexedrine is a Schedule II controlled substance, according to the U.S. Drug Enforcement Administration (DEA). It has a high potential for abuse, which can be dangerous to both your short-term and long-term health.
Abusing Dexedrine can put you at high risk for serious side effects of Dexedrine, such as:
significant weight loss
heart attack (myocardial infarction)
stroke
seizure
sudden death
These effects have been seen in normal doses, but may be more likely if Dexedrine is abused.
Long-Term Dangers Of Dexedrine Abuse
Dexedrine's high abuse potential also extends to long-term use. Snorting Dexedrine can lead to a psychological dependency on the "rush" of energy it may provide. Long-term abuse of Dexedrine can be particularly dangerous.
Amphetamine-induced psychosis, a condition similar to schizophrenia, has also been seen in patients taking or abusing amphetamines long-term. Frequent mood swings, hallucinations, and delusions are common symptoms.
People with preexisting health conditions may also be at a higher risk for these effects. Patients with bipolar disorder, a family history of certain mental illnesses, or a history of substance abuse should talk to their doctor before taking Dexedrine.
Risk Of Amphetamine Overdose
Snorting Dexedrine can have a high potential for amphetamine overdose compared to directed Dexedrine use. Symptoms of an overdose may look like more severe versions of common side effects, including:
arrhythmia (irregular heartbeat)
abdominal cramps
convulsions
cardiovascular collapse
coma
To reduce your risk of an amphetamine overdose, always practice safe prescription drug use.
Treatment For Dextroamphetamine Abuse
Amphetamine abuse remains a serious problem in the United States today. Illegal amphetamines like methamphetamine see widespread recreational abuse, while approved ADHD medications like Dexedrine, Adderall XR, Ritalin, and Vyvanse are still controlled substances.
Long-term abuse of amphetamines is often due to psychological dependence. A treatment program that treats snorting Dexedrine as a mental health issue may be effective in the long term. Treatment centers may offer guidance and counseling along with other options.
To find the best treatment for amphetamine abuse, talk to your healthcare professional or contact us today.
---
Keep Reading:
Written by Ark Behavioral Health Editorial Team
©2023 Ark National Holdings, LLC. | All Rights Reserved.
This page does not provide medical advice.
Questions About Treatment?
Ark Behavioral Health offers 100% confidential substance abuse assessment and treatment placement tailored to your individual needs. Achieve long-term recovery.
100% confidential. We respect your privacy.
Prefer Texting?
We've got you covered.
Receive 24/7 text support right away.
There is no obligation and you can opt out at any time.