What Is Adderall Tolerance?
Published
on

May 17, 2022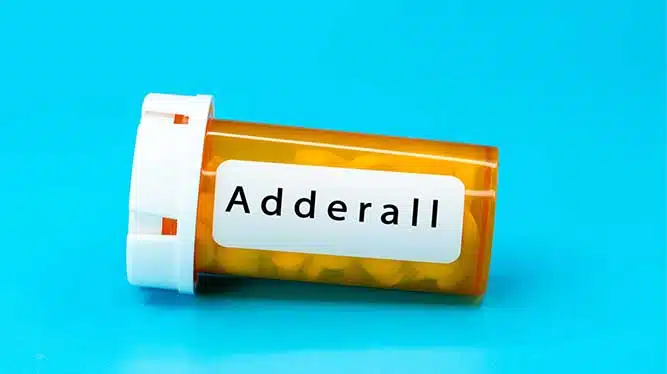 A person using Adderall, whether in high doses or therapeutic doses, may experience diminished effects from the drug over time, which is known as tolerance.
Adderall (immediate-release) and Adderall XR (extended-release) are prescription medications featuring a combination of amphetamine and dextroamphetamine.
Adderall is widely used to manage narcolepsy as well as symptoms of attention deficit hyperactivity disorder (ADHD) in children, adolescents, and adults.
How Adderall Tolerance Develops
When a person takes a certain drug for a long period of time, their body will likely make changes and adjustments that allow it to process and eliminate the drug more quickly or minimize the drug's effects in other ways.
This means that your current dose of Adderall will likely become less and less effective over time as your body becomes more and more adapted to and tolerant of it.
While tolerance can develop naturally with the therapeutic use of Adderall, it is far more likely to occur and accelerate in cases of prolonged high-dose Adderall abuse.
Adderall Tolerance & Addiction
Because tolerance develops more quickly when ADHD medications are misused, tolerance is likely a major sign of drug addiction, also known as substance use disorder.
This means that the person abusing the drug may need to take larger and larger doses to feel the same high. Or they may take the drug in a different way, often taking it with other drugs of abuse like alcohol or opioids, or crushing and snorting it.
This can lead to increasingly severe dependence and other long-term effects, including:
cardiovascular disease
sleep disorders
premature aging
constipation
anxiety, depression, and other mental health disorders
Effects Of Adderall Abuse
As a stimulant medication, Adderall works by binding to norepinephrine and dopamine receptors in the brain as well as epinephrine receptors in the adrenal gland.
This triggers an increased release of the neurotransmitters dopamine and norepinephrine, which then cause a general increase in mental and physical activity across the central nervous system.
In low doses, Adderall can increase concentration, focus, and wakefulness, which are useful for managing the symptoms of ADHD and sleep disorders like narcolepsy.
Unfortunately, in higher doses, CNS stimulant drugs like Adderall can trigger a highly addictive stimulant euphoria, or dopamine high.
These effects mean that Adderall and other prescription stimulants are frequently abused for a variety of reasons, including to assist in weight loss, increase wakefulness and concentration, or to get high.
Common Side Effects Of Adderall
Common side effects of Adderall, when the drug is used for the treatment of ADHD and other medical conditions, include:
stomach pain
loss of appetite
weight loss
mood changes
nervousness
fast heart rate
headache
dizziness
sleep problems (insomnia)
dry mouth
These effects often subside as the body adjusts to the medication.
Severe Adderall Side Effects
The drug may also sometimes cause severe short-term adverse effects, especially in cases of substance abuse or stimulant overdose.
These adverse effects can include:
chest pain
high blood pressure
trouble breathing
lightheadedness
stimulant psychosis (hallucinations, aggression, hostility, or paranoia)
circulation problems
seizures
muscle twitches or tics
changes in vision
If you or someone around you begins experiencing any of these effects after taking Adderall, you should immediately call for emergency medical attention.
Tolerance, Dependence, & Withdrawal
The concept of drug tolerance is closely related to physiological dependence, a condition where the body has adapted to a drug to such a degree that it has come to depend on that drug to maintain its internal balance, keeping a person feeling and acting normally.
If you develop a physical dependence on Adderall, it means that you may experience uncomfortable withdrawal symptoms when and if you stop taking the drug or if you drop your dosage.
These withdrawal symptoms may last anywhere from a few days to a few weeks, and may include:
aches and pains
anxiety
depression
difficulty concentrating
fatigue
headaches
irritability
increased appetite
insomnia
nightmares
suicidal thoughts
To avoid or minimize these symptoms, healthcare providers may recommend that those who have become seriously dependent on Adderall use a tapering schedule to slowly reduce their dosage over time.
Treating Adderall Tolerance
Adderall tolerance and dependence can be managed and reversed in different ways depending on the situation.
For mild cases, your healthcare provider might advise that you take a break from the medication so your body can readjust. Or, they may change your dosage or switch you to another treatment option like Ritalin (methylphenidate) or a non-stimulant drug.
For more severe cases, treatment may involve a tapering schedule and/or medical detox services, followed by inpatient or outpatient treatment for prescription drug abuse.
To learn more about treatment options for Adderall dependence or addiction, please contact Ark Behavioral Health today.
Written by Ark Behavioral Health Editorial Team
©2023 Ark National Holdings, LLC. | All Rights Reserved.
This page does not provide medical advice.
Questions About Treatment?
Ark Behavioral Health offers 100% confidential substance abuse assessment and treatment placement tailored to your individual needs. Achieve long-term recovery.
100% confidential. We respect your privacy.
Prefer Texting?
Our friendly support team is here to chat 24/7. Opt out any time.