Mixing Xanax & Ativan | Effects & Health Risks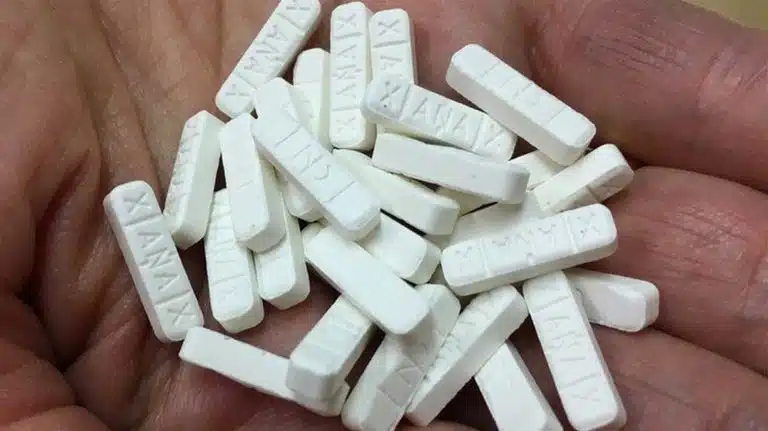 Xanax and Ativan are prescription medications used to treat a variety of mental health conditions, including anxiety disorders, panic disorders, and insomnia. They are both in a class of drugs called benzodiazepines ("benzos") that can produce calming and sedating effects.
Benzos are intended to be prescribed short-term in low doses because they pose some health risks. Taking high doses or mixing benzos can result in a life-threatening overdose. Long-term use of benzos poses a risk of dependency, withdrawal, and addiction.
Effects Of Xanax & Ativan
Xanax (alprazolam) and Ativan (lorazepam) are used to treat a variety of conditions, including anxiety, panic attacks, insomnia, and seizures. In some cases, benzos may also be used to treat symptoms of severe alcohol withdrawal.
Both drugs are benzodiazepines, which work by increasing the effect of the neurotransmitter gamma-aminobutyric acid (GABA). Increasing the effect of GABA helps reduce anxiety, relax muscles, and may make you feel sleepy.
Slowed Functioning
Benzodiazepines are also known as central nervous system (CNS) depressant drugs. CNS depressants slow brain activity. In large doses or when combined with other CNS depressants, they can slow important functions, like breathing, heart rate, and blood pressure.
Other benzodiazepines include:
Klonopin (clonazepam)
Valium (diazepam)
Serax (oxazepam)
Restoril (temazepam)
Intensified Side Effects
Side effects can vary, depending on the dose and type of benzo prescribed. Xanax is one of the most potent benzos but both drugs can be harmful in large doses or if combined.
Side effects of Ativan and Xanax include:
drowsiness
dizziness
dry mouth
nausea
constipation
problems urinating
appetite changes
confusion
lightheadedness
memory impairment
Sometimes people may misuse their prescription drug by taking it with similar drugs or taking more than the prescribed amount. Mixing two types of benzos together can intensify the severity of side effects.
Health Risks Associated With Mixing Ativan & Xanax
Along with an increased risk of side effects, mixing benzos also enhances the depressant effects of the drugs. This may result in a life-threatening overdose and other serious health risks.
Drug Overdose
Overdose can occur if you take a high dose of benzos or combine them with other CNS depressants, including opioids and alcohol. One of the major signs of an overdose is respiratory depression, which causes shallow breathing.
Other signs of a benzo overdose include:
stopped breathing
low blood pressure
loss of consciousness
confusion
extreme sedation
impaired motor function
Overdose can result in death or serious brain damage. If you recognize the signs of overdose, seek emergency help immediately.
Cognitive Impairment
Benzos can cause serious side effects, including drowsiness, impaired coordination, and memory impairment. The American Academy of Family Physicians found that long-term use of benzos is associated with cognitive decline.
Cognitive impairment may not improve after stopping benzodiazepine use.
In addition, elderly people have an increased risk of experiencing cognitive impairment, falls, and car accidents. The risk is greater when lorazepam and alprazolam are taken together.
Benzodiazepine Dependence
Benzos are a controlled substance with a risk of developing dependence and addiction. Taking multiple types of benzos, taking high doses, and taking benzos long-term increases the risk of developing dependence.
When your body becomes dependent on benzos, it is likely to experience withdrawal symptoms if you suddenly stop your medication. This can result in a wide range of symptoms that vary in severity.
Insomnia and rebound anxiety are two common withdrawal symptoms associated with benzos. Rebound anxiety is a temporary condition that causes you to experience the return of anxiety symptoms.
A detox program can help you safely come off benzos and help you cope with difficult withdrawal symptoms.
Substance Use Disorder
Long-term use of benzos or having a dependence increases the risk of developing a benzodiazepine addiction. Addiction is a complex disease of the brain characterized by compulsive drug use despite negative consequences.
Addiction is challenging to treat on your own but addiction treatment programs are equipped to help you recover. Outpatient and inpatient programs are staffed by trained professionals who will help you develop an individualized treatment plan.
Depending on your needs, a treatment plan may include the following services:
If you or a loved one would like more information on addiction treatment, please contact us today to speak with a specialist.
Written by Ark Behavioral Health Editorial Team
©2023 Ark National Holdings, LLC. | All Rights Reserved.
This page does not provide medical advice.
Questions About Treatment?
Ark Behavioral Health offers 100% confidential substance abuse assessment and treatment placement tailored to your individual needs. Achieve long-term recovery.
100% confidential. We respect your privacy.
Prefer Texting?
Our friendly support team is here to chat 24/7. Opt out any time.