How Long Does Suboxone Stay In Your System?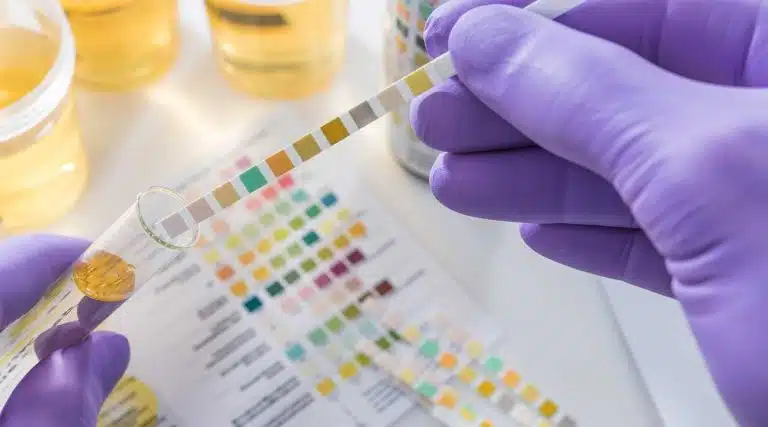 Depending on certain factors, like frequency of use, Suboxone is likely to stay in your system for around eight days after your last dose. However, it may show up on certain drug tests for between two weeks and 90 days after last use.
Suboxone is most commonly prescribed as an alternative to methadone for opioid addiction treatment. It's a combination drug that contains two different ingredients, buprenorphine, and naloxone, that work together effectively to treat addiction.
How Long Does It Take Buprenorphine To Kick In?
When you take your first dose of Suboxone, it should start to relieve withdrawal symptoms in under an hour. After about 2 hours, Suboxone will peak and reach maximum concentration levels in your system.
The levels of Suboxone will gradually drop after it peaks until that dose is eliminated from your body. You can calculate how long it will take a drug to leave your body using its elimination half-life.
Half-Life Of Suboxone
Elimination half-life refers to the amount of time it takes a drug to reduce to half the maximum concentration in your body.
Buprenorphine has a long elimination half-life between 24-42 hours. Its long-lasting effects prevent you from feeling withdrawal symptoms between doses.
A drug has about five half-lives before it is completely eliminated, which accounts to at least 8 days for buprenorphine to be completely cleared from your body.
Naloxone has a much shorter half-life of about 2-12 hours, which means it's only in your system for a total of 60 hours.
Drug Testing For Buprenorphine
When your body processes a drug, your liver breaks it down into metabolites. Suboxone is unique because buprenorphine breaks down into the metabolite norbuprenorphine, instead of morphine like most other opioids.
For this reason, there are special drug tests that detect buprenorphine and its metabolites.
Urine Tests
Urine testing is considered one of the most common and cost-effective drug screening methods. It's often used in Suboxone treatment programs to ensure the patient isn't diverting their medication.
window of detection: up to 2 weeks
Blood Tests
Blood tests are invasive but can detect the exact levels of a drug in your system. They are usually only used in emergency rooms or doctor's offices because it requires a licensed professional.
window of detection: up to 4 days
Saliva Tests
This type of test is often preferred over urine and other types of drug screening. They're impossible to tamper with and less invasive than other types of tests.
window of detection: up to 5 days
Hair Follicle Tests
Testing hair follicles is the most expensive method but it provides the largest window of detection. Every half inch of hair from the root provides the past 30 days of use of buprenorphine.
window of detection: up to 90 days
Factors that Affect Elimination & Detection Time
liver function: Damage to the liver can cause your body to increase the levels of buprenorphine in your system, which can also increase its half-life.
frequency of use: Buprenorphine is eliminated quicker if you use it occasionally, compared with long-term maintenance treatment.
prescription drug interactions: According to the Food and Drug Administration (FDA), combining certain drugs with Suboxone can increase the concentration of the drug in your system.
Suboxone Detox
Although Suboxone is used in long-term addiction treatment, many people eventually want to detox. Gradual tapering supervised by your prescribing doctor is necessary to avoid severe withdrawal symptoms.
The duration of withdrawal from buprenorphine is longer than other opioids and is extremely uncomfortable.
You may consider inpatient detox as a treatment option, where you're surrounded by health care professionals who can address your physical and mental health symptoms.
To learn about our substance abuse treatment programs, please contact us today.
Written by Ark Behavioral Health Editorial Team
©2023 Ark National Holdings, LLC. | All Rights Reserved.
This page does not provide medical advice.
Questions About Treatment?
Ark Behavioral Health offers 100% confidential substance abuse assessment and treatment placement tailored to your individual needs. Achieve long-term recovery.
100% confidential. We respect your privacy.
Prefer Texting?
Our friendly support team is here to chat 24/7. Opt out any time.