Lortab: Abuse & Addiction Overview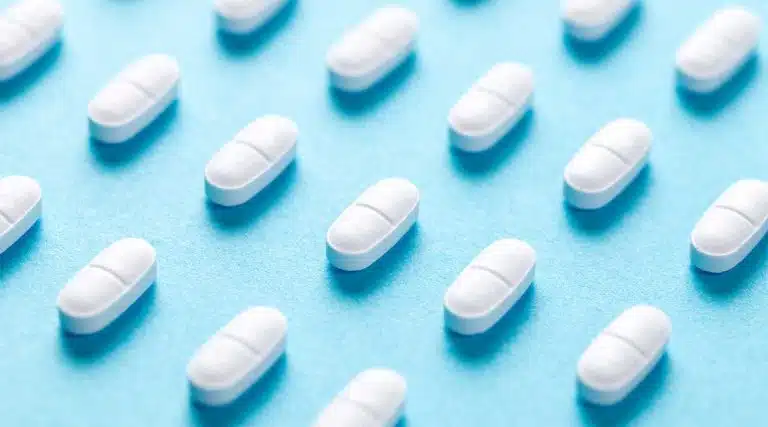 What Is Lortab?
Lortab is a combination pain reliever containing both hydrocodone and acetaminophen. It is used to treat moderate to severe pain.
Hydrocodone is an addictive opioid that relieves pain by binding to opioid receptors in the brain. Acetaminophen is an over-the-counter medication that is used to treat both pain and fever and is not addictive.
Other prescription drugs with hydrocodone and acetaminophen include:
Lortab is a brand name prescription and currently available only as an elixir, which is a liquid meant for oral consumption. The tablet form of the drug was discontinued, which means any pill form of Lortab is not FDA approved.
Taking Lortab pills bought from street dealers or by any other means can be life-threatening. Fake hydrocodone tablets are known to be filled with fentanyl and unknown substances.
Side Effects Of Lortab
Even when taken as prescribed, you may experience side effects when taking Lortab because one of the main ingredients is an opioid.
The most common side effects of opioids include:
dizziness
lightheadedness
pinpoint pupils
constipation
dry mouth
nausea and vomiting
itchiness
drowsiness
Lortab Abuse Potential
It's important to take the medication as prescribed to lower the risk of overdose and substance use disorder. The risk for hydrocodone dependence increases when you abuse it or take it without the supervision of a medical professional.
Here are some examples of non-medical use:
taking more than prescribed
taking your next dose too soon
combining hydrocodone with alcohol, other opioids, or benzodiazepines
Lortab Addiction
Prescription drugs containing opioids pose a risk for substance abuse and addiction because they create a sense of relaxation and euphoria. They affect the brain's reward system by overloading it with dopamine (the feel-good chemical).
The more positive messages your brain receives when taking the drug can drive you to take more of it outside of its recommended dose.
You may be addicted if you experience mood swings or cravings without the medication. It's important to look for warning signs of addiction because potent medications that contain opioids can cause overdose.
According to the CDC, one out of every four people who receive an opioid prescription for pain management become addicted.
Lortab Overdose
Lortab is a combination drug, which raises the risk of overdose for either of its main ingredients. Both hydrocodone and acetaminophen can be fatal if you take more than the prescribed dose or take doses too close together.
The risk of a life-threatening overdose is increased when combined with benzodiazepines (Xanax, Valium, and Ativan), which are used to treat anxiety and panic attacks.
Signs of a hydrocodone overdose may include:
seizures
slowed heart rate
slowed breathing
coma
Signs of acetaminophen overdose may include:
liver failure
nausea
vomiting
pain in abdomen
Lortab Withdrawal Symptoms
Abusing hydrocodone increases tolerance, which can lead to physical dependence even when taking the drug for a short period of time. Physical dependence can happen whether or not you are addicted.
When you become dependent on Lortab, you may experience withdrawal symptoms when you stop or lower the amount you take.
Signs of hydrocodone withdrawal may include:
chills
restlessness
muscle aches
runny nose
Lortab Addiction Treatment
Treatment for hydrocodone addiction should be done with the support of medical professionals. Treatment programs are designed to help fight opioid addiction by treating both the mental health and physical aspects of drug use.
Treatment facilities may include:
Medical detox—This is usually the first step in opioid addiction treatment. It is a short-term inpatient treatment that helps you overcome the barrier of withdrawal.
Residential treatment—This type of inpatient treatment is usually a minimum of thirty days. It helps you learn coping skills and healthy behaviors in a long-term care setting.
Outpatient treatment programs—These programs offer treatments similar to residential facilities, but allow you to live at home.
Medication-assisted treatment—Narcotic medications can have a similar effect on the brain as opioids without the high. Drugs such as buprenorphine and methadone help with withdrawal symptoms and decrease drug addiction.
If you think you or a loved one exhibits any signs of hydrocodone addiction or dependence, please contact Ark Behavioral Health to learn about our treatment options.
Lortab FAQ
Can You Snort Lortab?
Yes, some people abuse Lortab by crushing the tablets into a powder and snorting it. This form of substance abuse poses a number of serious health risks, including lung disease, HIV, overdose, and addiction.
Learn more about Snorting Lortab
How Long Does Lortab Stay In Your System?
Half of the acetaminophen in Lortab will leave your system in about one and a half hours to two and a half hours, while half of the hydrocodone will leave your system in about four to six hours.
Even after the drug completely leaves your system, it may still be detected on drug tests.
In general, Lortab can be detected on a blood test for up to 24 hours after your last dose, on a urine test or a saliva test for up to three days after your dose, and on a hair test for up to 90 days after your last dose.
Read How Long Does Lortab Stay In Your System to learn more
Written by Ark Behavioral Health Editorial Team
©2023 Ark National Holdings, LLC. | All Rights Reserved.
This page does not provide medical advice.
Questions About Treatment?
Ark Behavioral Health offers 100% confidential substance abuse assessment and treatment placement tailored to your individual needs. Achieve long-term recovery.
100% confidential. We respect your privacy.
Prefer Texting?
Our friendly support team is here to chat 24/7. Opt out any time.