Fake Hydrocodone Pills | Identification, Effects, & Dangers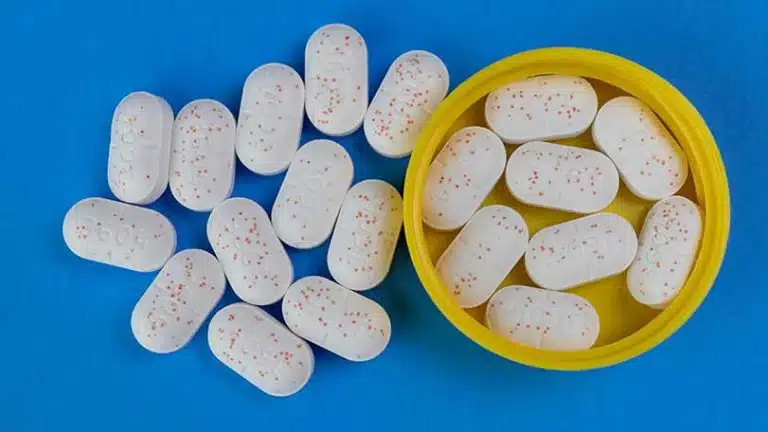 Hydrocodone is a prescription opioid that treats moderate to severe pain. It's usually prescribed in a capsule that contains acetaminophen (Tylenol).
If you get hydrocodone pills from a registered pharmacy in the United States, you can be sure they're real. But if you get them from a friend, an online pharmacy, or a street dealer, you may end up with fake hydrocodone pills.
Knowing how to identify hydrocodone could save your life.
What Does Hydrocodone Look Like?
Common hydrocodone brands (Vicodin, Norco, Lortab) come as a white or yellow oval-shaped capsule. Generic hydrocodone/acetaminophen pills are white capsules as well.
Extended-release hydrocodone (Zohydro) comes in white, green, dark blue, and dark brown capsules.
How To Identify Fake Hydrocodone
Hydrocodone pills are fake when they aren't made the same as legitimate prescription pills.
Fake hydrocodone pills may:
be made without the active ingredient (hydrocodone)
be made with substandard ingredients
contain the incorrect dosage of hydrocodone
have undeclared ingredients (such as toxic cutting agents or other drugs)
It's easiest to determine if a pill is counterfeit when you take the drug regularly. You may be able to identify fake hydrocodone by how it tastes or how it makes you feel. You might also be able to tell by looking at it closely.
Counterfeit pills are made with pill presses that often don't press as firmly as those used by professional drug manufacturers. Fake hydrocodone pills may be more crumbly. Their edges may be more rounded, sharper, or uneven.
Here are a few other ways to identify fake hydrocodone pills:
the imprinted numbers and letters aren't the same as a legitimate pill
the stamp is off-centered, shallow, or deeper than on a real pill
the packaging looks different or has different information on it
If you think you have fake hydrocodone, don't risk it. The only way to know it's real is to get it from a licensed pharmacist. Even online pharmacies may sell substandard pills.
Is Fake Hydrocodone Common?
Fake hydrocodone is becoming increasingly common in the United States.
In October 2021, the US Drug Enforcement Administration (DEA) reported that they'd seized over 9.5 million counterfeit pills so far that year. Many contained fentanyl (a potent synthetic opioid) or methamphetamine (an addictive stimulant).
These fake pills included hydrocodone, oxycodone (Percocet), alprazolam (Xanax), and amphetamine (Adderall).
The DEA reports that four out of every 10 pills containing fentanyl may contain a lethal dose. Their social media campaign "One Pill Can Kill" aims to bring awareness to the dangers of fake drugs like hydrocodone.
Effects Of Fake Hydrocodone
Hydrocodone is a central nervous system depressant that helps you relax by slowing down your brain activity, breathing rate, and heartbeat. It also works as a painkiller by changing how your brain perceives pain. You may feel euphoria when taking hydrocodone.
Fake hydrocodone pills can have unexpected effects. These effects depend on what's fake about them.
They could be weaker (missing an active ingredient) or stronger (laced with a more potent drug). Fake pills may contain fillers like baby laxatives or laundry soap that cause an allergic reaction. They might even cause health problems that wouldn't result from actual hydrocodone.
Dangers Of Fake Hydrocodone
The greatest dangers of fake hydrocodone are overdose risk and health problems.
Fake Hydrocodone Raises Overdose Risk
Some street drug manufacturers lace hydrocodone with fentanyl to stretch their supply because it only takes a tiny bit to produce an intense high. Sadly, a tiny bit could be a lethal dose of fentanyl. This drug is one of the leading causes of overdose deaths today.
In 2014, 52 people in Sacramento, California overdosed on fake Norco pills that contained fentanyl. Fourteen of them were fatal overdoses. In 2016, seven people in the San Francisco Bay Area were hospitalized for taking fake Norco pills, and two of them died.
Many other cases of fake prescription pills adulterated with fentanyl have appeared across the United States in the last few years.
If you overdose on hydrocodone or fentanyl-laced hydrocodone, naloxone (Narcan) can help.
Naloxone is an opioid overdose reversal agent that's available at most major pharmacies in the US. It blocks the effects of opioids so you have a chance at surviving until a medical professional arrives.
Fake Hydrocodone Can Be Harmful To Your Health
Besides containing deadly drugs, fake hydrocodone may be made of cutting agents that react adversely to your body or irritate your system. They may make the drug seem weaker so you take more and overdose.
A lot of people abuse hydrocodone by taking the capsules orally, as intended. But some crush the pills into powder to snort or dissolve them into a liquid for injection.
Snorting or injecting hydrocodone—whether it's fake or real—takes all of the substance into the bloodstream. These methods could have a more potent effect than your body can handle.
Unknown fillers in fake hydrocodone pills may cause severe irritation to nasal tissue, skin, or blood vessels if you snort or inject them.
Hydrocodone Abuse & Addiction
Hydrocodone is effective as a painkiller to get you through post-surgery or other instances of intense pain. It usually isn't prescribed long-term. The US Drug Enforcement Administration (DEA) classifies hydrocodone as a Schedule II controlled substance with high abuse potential.
By binding to opioid receptors, hydrocodone interferes with gamma-aminobutyric acid (GABA), which regulates the brain's pleasure system. This allows dopamine (a pleasure hormone) to flood the brain. The reward from drug use reinforces drug-taking behavior.
Every time you abuse hydrocodone, your brain becomes less effective at naturally relaxing and resisting pain and depends more on hydrocodone instead. When you become addicted, you crave the drug, which makes it even harder to stop taking it.
If you or a loved one are struggling with hydrocodone abuse, don't wait to ask for help. Addiction can take over your life and have devastating effects on your health and relationships.
At Ark Behavioral Health, we're here to guide you toward the best recovery program for you. Contact one of our treatment specialists today to learn more and start healing today.
Written by Ark Behavioral Health Editorial Team
©2023 Ark National Holdings, LLC. | All Rights Reserved.
This page does not provide medical advice.
Questions About Treatment?
Ark Behavioral Health offers 100% confidential substance abuse assessment and treatment placement tailored to your individual needs. Achieve long-term recovery.
100% confidential. We respect your privacy.
Prefer Texting?
Our friendly support team is here to chat 24/7. Opt out any time.