Meth Identification | What Does Meth Look, Smell, & Taste Like?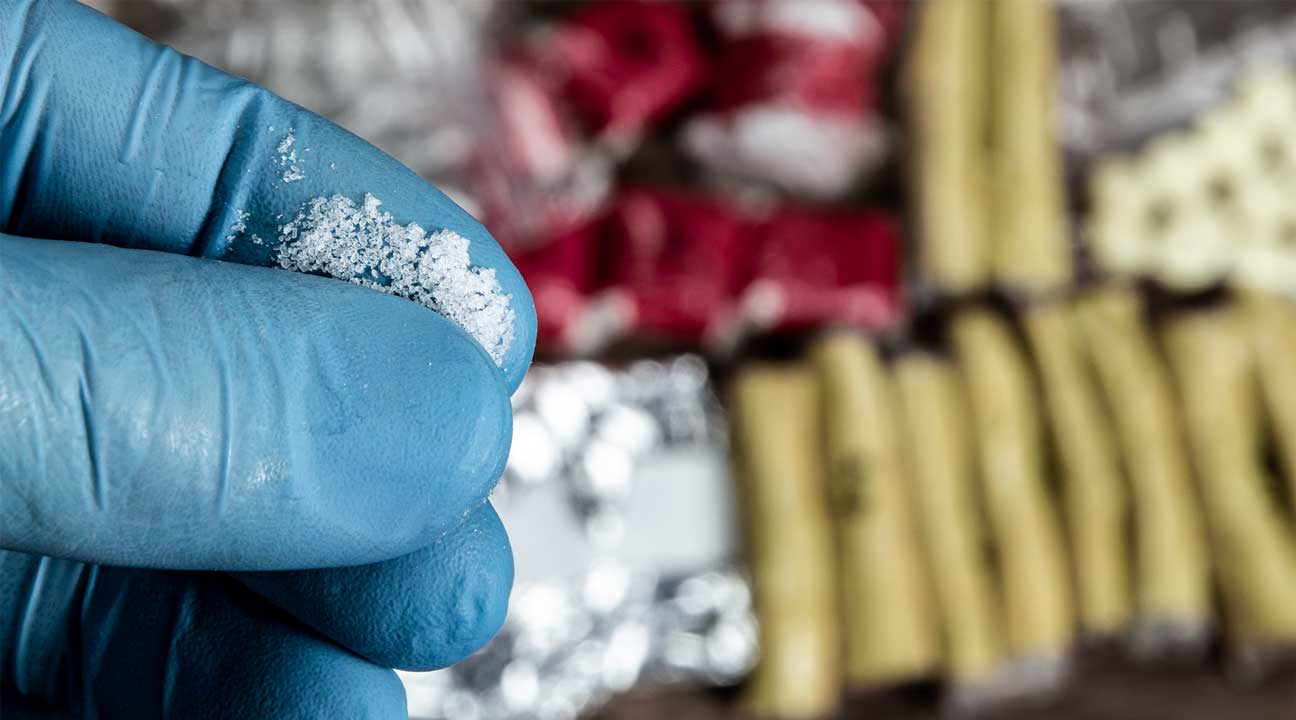 Methamphetamine, or meth, is a highly addictive drug. It makes you feel happy and energized by enhancing the effects of a brain chemical called dopamine. Some people abuse this stimulant drug by smoking, snorting, injecting, or swallowing it.
Common side effects of meth include hyperactivity, psychosis, and increased body temperature.
Over time, meth use can lead to physical and mental health problems like high blood pressure, severe tooth decay ("meth mouth"), depression, and addiction (also called substance use disorder).
If you're concerned that your loved one may be using meth, you should know how to identify the drug.
What Does Meth Look Like?
Meth comes in five different forms: powder, crystal, pill, liquid, and base.
Powdered Meth
Ranging from very fine to very coarse, powdered meth dissolves easily in water and alcohol. Depending on the ingredients used, it comes in various colors, including white, brown, orange, yellow-gray, and pink.
Crystal Meth
The purest and strongest form of meth, crystal methamphetamine is made by dissolving powdered meth in alcohol or another solvent.
It looks like chunks of glass, ice, or shiny, bluish-white rocks. That's why many people call it by the street names "glass," "ice," and "rock." It tends to be flaky.
Meth Pills
Doctors sometimes prescribe methamphetamine in pill form to treat attention-deficit/hyperactivity disorder (ADHD) and a sleep disorder called narcolepsy.
Sold under the brand name Desoxyn, the tablets are white and round.
In addition, some people illegally press powdered meth into tablets to sell as party drugs. These tablets may contain other substances and appear in various shapes, sizes, and colors.
A popular example is called yaba. Consisting of meth and caffeine, the pill is usually green or reddish-orange.
Liquid Meth
Before transporting meth, some people dissolve the drug in water, turning it into a dark yellow liquid. They then place the meth in small bottles to avoid detection at airports, shipping facilities, and similar places.
Base Meth
A less common form of meth, base is oily, waxy, or gooey. It's not easy to dissolve and may be white, yellow, or brown.
What Does Meth Smell Like?
Some people describe meth as odorless, while others say it has a smell that ranges from faint to strong.
Though smoked meth may smell slightly sweet, other forms of meth tend to have a bitter smell. The bitterness comes from the chemicals the drug contains.
These chemicals may include acetone, ammonia, lithium, red phosphorus, ether, hydrochloric acid, and sulfuric acid, and can make the drug smell like:
nail polish remover
paint thinner
vinegar
fertilizer
cleaning products
cat urine
rotten eggs
burning plastic
hospitals
These smells can also be found in meth labs (houses, apartments, vehicles, and other structures where people illegally make meth).
What Does Meth Taste Like?
Meth usually tastes the way it smells. Many meth users describe the taste as very bitter and chemical-like.
To recover from meth addiction, it's important to attend a substance abuse treatment facility. These facilities offer inpatient and outpatient treatment services such as medical detox, individual therapy, and group therapy.
If you or someone you love struggles with meth use, please contact Ark Behavioral Health specialist to learn about our substance abuse and addiction treatment centers.
Written by Ark Behavioral Health Editorial Team
©2022 Ark National Holdings, LLC. | All Rights Reserved.
This page does not provide medical advice.
Questions About Treatment?
Ark Behavioral Health offers 100% confidential substance abuse assessment and treatment placement tailored to your individual needs. Achieve long-term recovery.
100% confidential. We respect your privacy.
Prefer Texting?
We've got you covered.
Receive 24/7 text support right away.
There is no obligation and you can opt out at any time.