Meth Labs | 7 Telltale Signs Of Meth & Other Drug Labs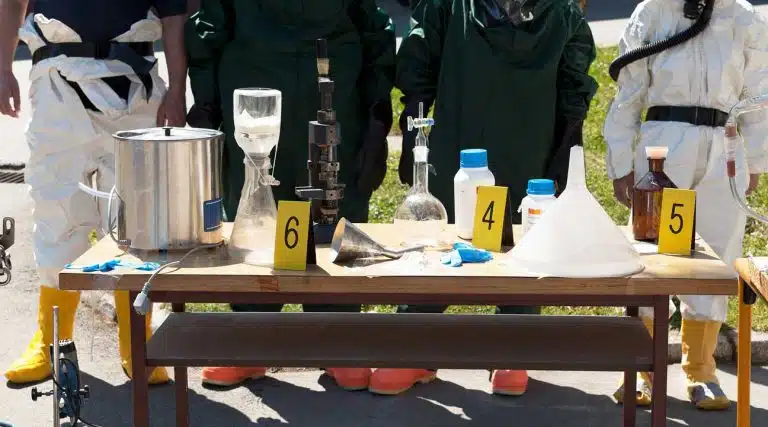 Since the passage of the Combat Methamphetamine Epidemic Act in 2005, methamphetamine production in the United States has dramatically fallen, with reported incidents declining over 80% from 2010 to 2017.
These days, the vast majority of crystal meth in the US is created south of the border and smuggled in.
However, meth houses and labs do still operate under the radar in the United States, and properly recognizing and reporting these labs can help save lives and keep you and your community safe.
How Is Meth Made?
Meth labs start with legal cold medications like pseudoephedrine or ephedrine. By way of chemical reactions, the active ingredients in these medications are extracted and converted into methamphetamine.
Methamphetamine production and meth recipes vary from source to source, but generally involve a variety of dangerous compounds and toxic chemicals, which may include:
acetone, a flammable liquid found in nail polish remover and paint thinner
antifreeze, used in car radiators
anhydrous ammonia, found in household cleaners and fertilizer
ether, a pleasant-smelling anesthetic and solvent that is very flammable
freon, used in old-model air conditioners and refrigerators
hydrochloric acid, a potent corrosive acid used in chemistry and also secreted by your stomach for digestion
lithium, an explosive material used in battery acid that can burn skin on contact and may explode
red phosphorus, a highly flammable compound found in road flares and explosives
toluene, a corrosive liquid used in brake fluid that can dissolve rubber
sodium hydroxide, also called lye, which is used to dissolve animal flesh and is exceedingly corrosive
sulfuric acid, another potent and corrosive acid which is used in drain cleaners
Meth Lab Paraphernalia
If you notice any of the compounds listed above stockpiled in suspicious quantities, it's a good indication that meth production may be underway.
Other common, telltale equipment involved in cooking meth may include:
propane tanks with fittings coated in blue or green residue
red-stained coffee filters or cloth
plastic containers or bottles with puncture marks or attached hoses
rubber gloves and respiratory masks
glass chemistry equipment, often jerry-rigged with duct tape and kept with cookware or pans, with traces of white residue
Learn about the emerging Shake And Bake Method Of Meth Production
Signs Of A Meth Lab
Meth labs come in all shapes and sizes and may be run-down or well maintained and disguised. But, once again, there are common, telltale signs to watch for:
signs, barriers, or security measures put up against trespassing
obscured windows, doors, and other openings
strong chemical odors or urine odors
open ventilation in odd conditions for dealing with fumes and vapors from cooking
toxic waste dumped outside, leaving burned or dead areas
frequent visitors at odd hours, especially during the night
Strange Behavior
Meth producers often struggle with meth addiction and may display certain telling behaviors.
Strange behaviors associated with meth use can include:
unfriendliness and paranoia
outdoor smoking, to prevent an explosion or fire
carrying or driving garbage away to be disposed of in other locations
excessive garbage removal
rarely leaving the house for any typical activities
lack of employment, but enough money to pay bills or indulge in splurge purchases
significant night or early morning activity
ongoing health problems and physical or mental deterioration
Meth Lab Explosions & Other Hazards
Cooking meth is a toxic and dangerous process, and it's no surprise that explosions, fires, and poisonings are common in meth houses and in the area around them.
Animals may sicken and die due to waste exposure, explosions can destroy entire structures or set fire to the homes nearby, and meth cooks (and their children or dependents) may be poisoned, horribly burned, disfigured, or otherwise harmed as well.
Even micro-batch shake and bake meth production can result in permanent physical harm and death if something goes wrong in the process.
What Should You Do If You Identify A Meth Lab?
First, leave and decontaminate any exposed skin or clothing.
Toxic byproducts can easily transfer within a meth lab, and meth cooks and their customers may be aggressive or violent if challenged, especially if they have been taking the drug themselves.
Instead, document your evidence and call the police and your local health department. Special elements of local law enforcement are trained to break up drug labs, and qualified remediation professionals are equipped to provide decontamination services and safely clean up the area in the aftermath.
Help For Meth Abuse
Meth is a powerfully addictive drug that changes the brain, personality, and priorities of those who use it. But while recovery from methamphetamine addiction and the drug's harmful health effects is challenging, it is possible.
Highly qualified, compassionate rehabilitation specialists can help you or your loved ones detox and navigate the symptoms of methamphetamine withdrawal before working towards long-term recovery.
To learn more about our substance use disorder treatment programs, contact Ark Behavioral Health today.
Written by Ark Behavioral Health Editorial Team
©2023 Ark National Holdings, LLC. | All Rights Reserved.
This page does not provide medical advice.
Questions About Treatment?
Ark Behavioral Health offers 100% confidential substance abuse assessment and treatment placement tailored to your individual needs. Achieve long-term recovery.
100% confidential. We respect your privacy.
Prefer Texting?
We've got you covered.
Receive 24/7 text support right away.
There is no obligation and you can opt out at any time.