How Is Heroin Made? | From Poppy Plant To Illicit Drug
Published
on

February 11, 2021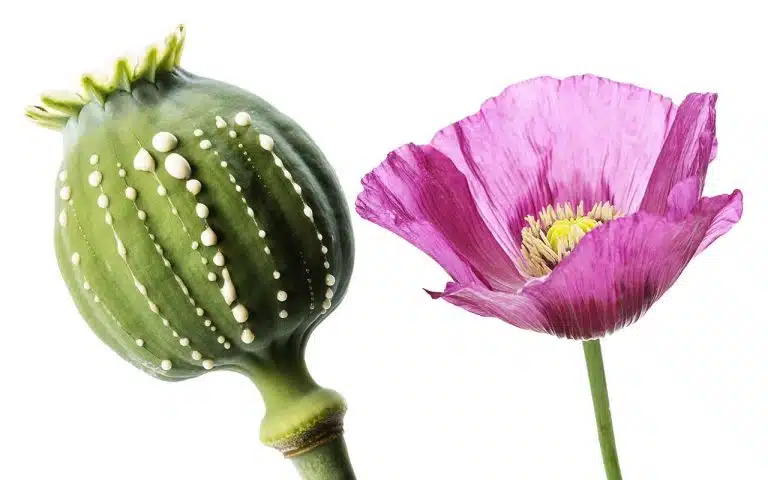 Heroin is an opioid drug that can be injected, snorted, smoked, or sniffed. It activates receptors in the brain called mu-opioid receptors (MORs) and causes effects like euphoria (intense joy), dry mouth, nausea, and constipation.
As with many drugs, it takes a significant amount of time and effort to make heroin.
Where Does Heroin Come From?
To understand where heroin comes from, you must first learn about the three types of opioids: opiates, fully synthetic opioids, and semi-synthetic opioids.
Opiates are naturally occurring compounds called alkaloids. They come from the opium poppy plant (scientifically known as Papaver somniferum). This plant originated in 3400 B.C. in lower Mesopotamia, where the Sumerians called it the "joy plant." Examples include morphine, thebaine, and codeine.
Fully synthetic opioids are the opposite of opiates. Instead of occurring naturally, they're produced in laboratories. Examples include fentanyl, methadone, and tramadol.
Semi-synthetic opioids are also made in laboratories. However, unlike fully synthetic opioids, they're derived from opiates. Examples include prescription painkillers like hydromorphone, hydrocodone, and oxycodone.
Another example is heroin, which is a derivative of the opiate morphine.
Opium Poppy Cultivation
Opium poppy plants are grown primarily in Southwest Asia (especially Afghanistan, Turkey, and Pakistan), Southeast Asia (especially Laos and Myanmar, formerly called Burma), and Latin America (especially Mexico and Colombia).
The creation of heroin starts with the planting of opium poppy seeds. That's why eating foods with poppy seeds, such as poppy seed bagels, can make you fail an opioid drug test administered by law enforcement, even if you haven't used opioids.
Once the seeds are planted, it takes about three months for the poppy plants to bloom. The plants contain egg-shaped seed pods. Farmers slice the pods open to reveal a milky sap, which is raw opium.
As the opium oozes from the pod, it forms a dark, thick gum. The farmers clump the gum into balls or cakes, wrap them in leaves or plastic, and put them on the opium trade markert. Once purchased, the raw opium is brought to a morphine refinery.
Making Morphine
At the morphine refinery, workers boil the opium with lime. A white band of morphine forms on the surface. The workers reheat the morphine with ammonia, filter it, and continue to boil it until it becomes a brown paste.
They then pour the morphine paste into a mold and leave it in the sun. It dries into a morphine base that resembles modeling clay. The base can then be made into heroin.
Turning Morphine Into Heroin
At a laboratory, workers turn morphine into heroin by:
heating equal parts morphine and acetic anhydride in a container for six hours at 85 degrees Celsius
adding water and chloroform to the mixture
draining the mixture and adding sodium carbonate
using activated charcoal to filter heroin out of the mixture
purifying the heroin with alcohol
heating the heroin to evaporate the alcohol
A pharmaceutical company called Bayer began using this method to produce heroin commercially in 1898.
Forms Of Heroin
After following the above steps, some people further purify heroin with ether and hydrochloric acid. When performed incorrectly, this step can lead to explosion. When performed correctly, it creates white powder heroin, which is the purest form of the drug.
The least pure form of the drug is called black tar heroin (BTH), which is dark and sticky. When further processed and mixed with lactose, BTH becomes brown powder heroin.
Cutting Heroin
Many drug dealers cut heroin (mix it with other substances) to increase the drug's weight so they can charge more for it.
Common cutting agents include:
sugar
baking soda
starch
powdered milk
In addition, some dealers cut heroin with other drugs to intensify the user's high. These drugs may include:
caffeine
quinine, a medication that can treat malaria
fentanyl, an extremely powerful opioid that's linked to numerous overdose deaths
Dealers often don't tell buyers they've added other drugs to heroin.
Heroin Addiction
The United States Drug Enforcement Administration (DEA) classifies heroin as a Schedule I Controlled Substance. That means it poses a high risk of abuse and addiction.
According to the National Institute on Drug Abuse, heroin addiction increases the risk of health problems such as:
sexual dysfunction
depression
lung problems
brain changes that hinder one's ability to make decisions, handle stress, and regulate behavior
fatal overdose
If you or someone you love struggles with heroin addiction or another form of drug use, please contact an Ark Behavioral Health specialist to learn about our substance abuse treatment programs.
Written by Ark Behavioral Health Editorial Team
©2023 Ark National Holdings, LLC. | All Rights Reserved.
This page does not provide medical advice.
Questions About Treatment?
Ark Behavioral Health offers 100% confidential substance abuse assessment and treatment placement tailored to your individual needs. Achieve long-term recovery.
100% confidential. We respect your privacy.
Prefer Texting?
We've got you covered.
Receive 24/7 text support right away.
There is no obligation and you can opt out at any time.