MDMA & Brain Damage | How Ecstasy/MDMA Affects The Brain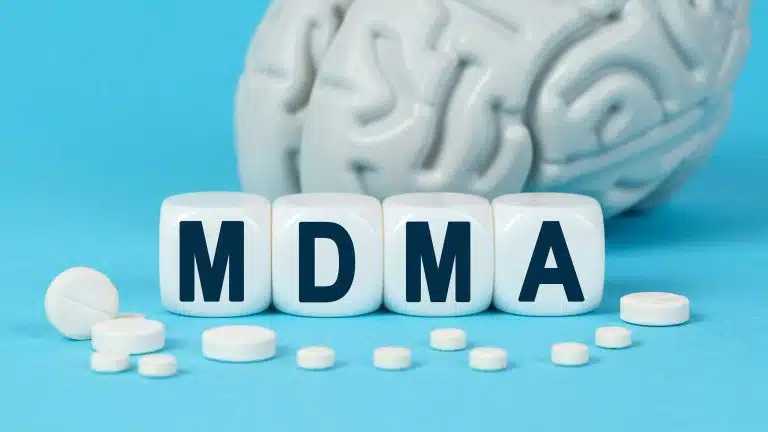 MDMA, also known as ecstasy, is a popular recreational drug that changes your brain chemistry. Commonly used by young adults as a "rave drug," ecstasy causes feelings of excitement, trust, and euphoria. It is similar in structure to methamphetamine.
While one dose of MDMA can last anywhere between 3 to 6 hours, it can also cause long-lasting damage to both your brain and body. These effects may last after you have stopped taking the drug.
Some studies show links between cognition, memory, and other forms of brain damage with MDMA use. Some of these effects may be permanent.
Effects Of MDMA
While "rolling" on MDMA, your improved mood and excitement may also increase feelings of trust. This can lead to a false sense of security and increase your chances of risky behavior, such as unsafe sex or sharing needles.
After ecstasy use, people often feel their mental health change for up to a week while the brain slowly returns to normal. This is known as a post-MDMA hangover or come down, and can cause:
depressive symptoms
decreased concentration
anxiety
sleeping problems
memory impairment
MDMA's complex effects on the brain and nervous system can lead to a number of health effects in the short- and long term.
Neuroscience Of MDMA's Effects
MDMA is short for 3,4-methylenedioxymethamphetamine. It both increases serotonin production in the brain and blocks its reuptake, making it stay in the brain for longer. MDMA also affects the neurotransmitters dopamine and norepinephrine in smaller amounts.
These neurotransmitters affect mood, motivation, stress, and movement. Increasing their production can lead to the excitement and energy caused by MDMA.
The rush of serotonin caused by the drug ecstasy can cause a shortage of serotonin in the long term. MDMA can affect both the neurons in your brain and structures in your brain at large.
MDMA & The Brain
MDMA can cause neurotoxic effects on your brain. Studies show that MDMA can cause decreased blood flow to your amygdala, cerebellum, and frontal cortex. After taking MDMA, brain activity in the hippocampus and other areas may also go down.
These parts of your brain are involved with memory, information processing, emotion, motor functions, and learning. MDMA can impair your brain's ability to work, even after you have stopped taking the drug.
After coming down from MDMA, your brain may take a while to go back to its normal chemistry. These changes, combined with the shortage in serotonin, may contribute to the post-MDMA comedown that many people experience.
Are The Effects Of MDMA Permanent?
MDMA may cause permanent brain damage even after drug use of ecstasy stops. Brain activity in structures like the hippocampus and thalamus may be irreversibly changed.
Research done on primates and rats has shown that MDMA can permanently damage nerve cells, serotonergic neurons and serotonin transporters. All of these are crucial parts of the brain's serotonin reuptake system.
Low serotonin and changes in hippocampus activity are associated with memory impairment. However, MDMA is commonly abused with substances that are linked to similar issues, such as amphetamines and marijuana. Whether MDMA or other substances cause these problems is not clear.
How Brain Damage Can Affect Other Parts Of The Body
Your brain is part of the central nervous system, which keeps many vital functions in your body running. Neurotoxicity in the brain, caused by substances like MDMA, can affect other parts of the body. If your brain cells can't communicate properly, the rest of your body may be at risk.
Body systems like your cardiovascular and digestive systems can be put at risk due to neurotoxicity. High doses of MDMA have been linked to severe side effects such as:
seizures
dangerous increases in body temperature
kidney failure
problems with blood flow
These effects may be caused by damage to the thalamus, hypothalamus, and other parts of the brain.
Treatment For Long-Term Effects Of MDMA
Many of MDMA's long-term effects are still being studied. MDMA is commonly abused with other substances, and it is unclear whether many people who suffer from MDMA's side effects had preexisting conditions or not.
Effective treatments for MDMA abuse are still being developed. If you are struggling with the long-term side effects of MDMA or would like to prevent them in yourself or a loved one, talk to your healthcare professional.
Written by Ark Behavioral Health Editorial Team
©2023 Ark National Holdings, LLC. | All Rights Reserved.
This page does not provide medical advice.
Questions About Treatment?
Ark Behavioral Health offers 100% confidential substance abuse assessment and treatment placement tailored to your individual needs. Achieve long-term recovery.
100% confidential. We respect your privacy.
Prefer Texting?
Our friendly support team is here to chat 24/7. Opt out any time.