How To Identify Fake Crack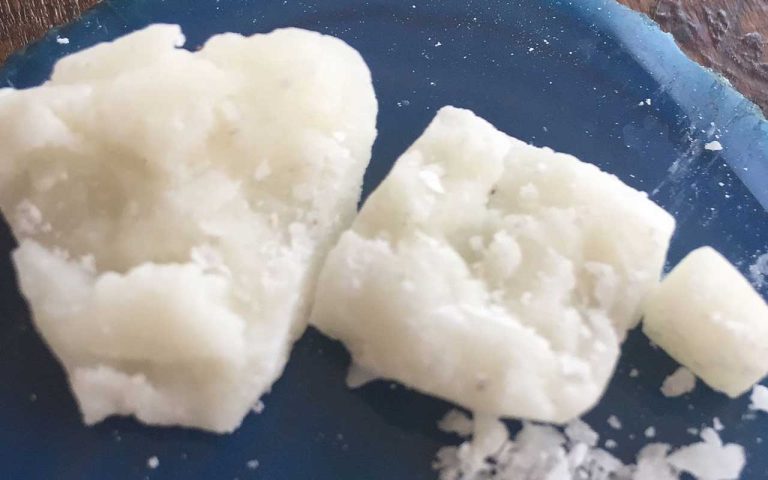 Crack cocaine is a stimulant drug that can cause a rush of happiness and energy. The United States Drug Enforcement Administration classifies it as a Schedule II Controlled Substance. That means it poses a high risk of abuse and addiction.
Some drug dealers sell fake crack cocaine, which comes with its own risks.
Real Crack Vs. Fake Crack
People make real crack by cooking baking soda with cocaine powder and then separating the mixture into rock-like chunks.
Most drug dealers use the same process to make fake crack, except they skip the cocaine powder. In other words, they sell their buyers baking soda while charging for cocaine.
Other dealers use more dangerous ingredients to make fake crack.
For example, in 2017, law enforcement officials in Baltimore discovered a man was selling N-ethylpentylone Hydrochloride as crack cocaine. N-ethylpentylone Hydrochloride is a synthetic cathinone, or "bath salt," that can cause seizures, hallucinations, and death.
How To Spot Fake Crack
The best way to identify fake crack is to learn how real crack looks, smells, and tastes. Any differences suggest the crack is fake.
How Real Crack Looks
Most dealers sell crack in plastic bags. As stated above, the drug resembles rocks. The rocks may vary in shape, size, and color, which can range from clear-white to off-white to yellow. Learn more about what crack looks like here.
How Real Crack Smells
Some people describe the smell of crack cocaine as sweet. Others say it smells like chemicals or cleaning supplies.
When smoked, crack cocaine often smells like burning plastic or rubber. Learn more about what crack smells like here.
How Real Crack Tastes
Cocaine usually tastes bitter and chemical-like. Some people rub crack cocaine on their gums to check not only the taste but also the sensation, as real cocaine tends to have a numbing effect.
Unfortunately, some drug dealers have learned about this test and made it unreliable by adding numbing agents to fake crack.
What To Do If You Find Fake Crack
If you find any substance that resembles crack, contact your local police department. It's illegal to use, buy, or sell crack, even if it's fake.
If you or someone you love struggles with crack cocaine use, please reach out to an Ark Behavioral Health specialist to learn about our substance abuse and addiction treatment options.
Written by Ark Behavioral Health Editorial Team
©2022 Ark National Holdings, LLC. | All Rights Reserved.
This page does not provide medical advice.
Questions About Treatment?
Ark Behavioral Health offers 100% confidential substance abuse assessment and treatment placement tailored to your individual needs. Achieve long-term recovery.
100% confidential. We respect your privacy.
Prefer Texting?
We've got you covered.
Receive 24/7 text support right away.
There is no obligation and you can opt out at any time.