Jimi Hendrix | Barbiturate Overdose Death
Guitarist and American songwriter Jimi Hendrix is well-known as one of the greatest rockstars of all time. Unfortunately, he is also known for his untimely death due to barbiturate intoxication.
Hendrix is part of a group of musicians including The Doors' Jim Morrison, The Rolling Stones' Brian Jones, and Janis Joplin who all died of a drug overdose at the age of 27.
How Did Jimi Hendrix Die?
Jimi Hendrix died on September 18, 1970, at the age of 27 at the Samarkand Hotel in Notting Hill, London, England.
His cause of death was asphyxia, which was likely caused by choking on his own vomit after overdosing on Vesparax sleeping pills, which are barbiturates.
He was found by his girlfriend Monika Dannemann, a German figure skater. She called an old friend of Hendrix's and they told her to call an ambulance. He was taken to St. Mary Abbot's Hospital where he was pronounced dead.
The coroner found no evidence of his death being a suicide, but some people assumed a poem found in the hotel room was a suicide note.
Hendrix spent the night before his death drinking red wine and smoking hashish with Dannemann and then they went to a party. They returned to the hotel at 3 AM the next day and that would be the last time he would leave the room alive.
Hendrix was buried on October 1, 1970 at Greenwood Cemetery in Renton, Washington.
About Jimi Hendrix
James Marshall "Jimi" Hendrix was born in Seattle, Washington on November 27, 1942.
By 1966, Hendrix was signed by The Animals' manager Michael Jeffery and created The Jimi Hendrix Experience with bassist Noel Redding and drummer Mitch Mitchell.
The band broke up in 1969 and Hendrix teamed up with Army pal and bassist Billy Cox to form Gypsy Sun and Rainbows. They played Woodstock and closed the festival with a famous rendition of "The Star-Spangled Banner."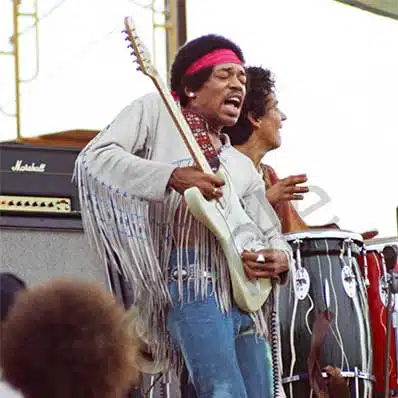 Hendrix got the Experience back together without Noel Redding but his performances started to deteriorate due to substance use.
Final Performance & Legal Problems
On Sept 16, 1970, he played his final public performance with Eric Burdon's new band War at Ronnie Scott's Jazz Club.
At the time of Hendrix's death, he had a slew of legal problems, including a recording contract dispute and a paternity case. He also tried to leave his manager and became very frustrated with the whole music industry.
Albums
The Jimi Hendrix Experience ended up releasing three albums during Hendrix's lifetime, including:
Are You Experienced (1967)
Axis: Bold as Love (1967)
Electric Ladyland (1968)
Some of his most well-known songs are "Purple Haze" and "Along the Watchtower."
Hendrix was inducted into the Rock and Roll Hall of Fame in 1992 and influenced many popular performers, including The Beatles and Paul McCartney.
Jimi Hendrix's History of Drug & Alcohol Abuse
Jimi Hendrix had a long history of using alcohol and drugs, including heroin.
He also experimented with LSD, cocaine, marijuana, and amphetamines. By 1967, he was regularly using drugs and alcohol. He was reported to be involved in several drunken disputes and violent situations.
Hendrix was arrested for heroin possession in Canada in early 1969, and by June of that year his heroin addiction worsened and started to affect his performances.
Did Jimi Hendrix Attend Addiction Treatment?
There is no evidence that Jimi Hendrix sought out or received any addiction treatment, which could have led him on the path towards recovery.
Recovery Is Possible
Although Jimi Hendrix never overcame his struggles with drug and alcohol abuse, recovery is possible with professional treatment, supportive resources, and ongoing care from family members and loved ones.
To learn how we address substance use disorder, please contact us today.
Written by Ark Behavioral Health Editorial Team
©2023 Ark National Holdings, LLC. | All Rights Reserved.
This page does not provide medical advice.
Questions About Treatment?
Ark Behavioral Health offers 100% confidential substance abuse assessment and treatment placement tailored to your individual needs. Achieve long-term recovery.
100% confidential. We respect your privacy.
Prefer Texting?
Our friendly support team is here to chat 24/7. Opt out any time.