BuSpar Dosage Guide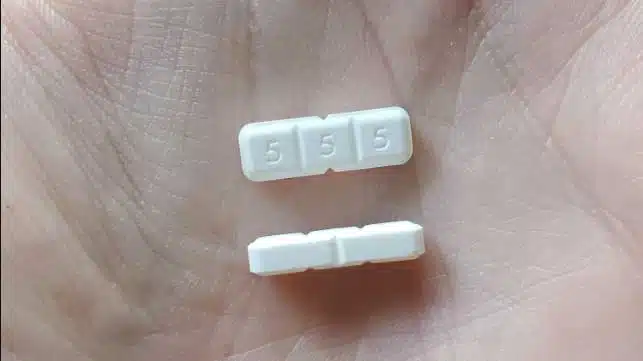 Buspirone hydrochloride, formerly sold under the brand name BuSpar, is an anxiolytic, or medication used to treat symptoms of anxiety and generalized anxiety disorder (GAD) in particular.
BuSpar Dosage
Adults taking buspirone for anxiety will typically take an initial 7.5 mg dosage twice daily. This dosage may be increased as needed or taken more frequently, but adult patients should not exceed the BuSpar maximum dose of 60 mg in a single day.
The dosage of buspirone taken by children and adolescents must be determined by a healthcare provider, as adverse effects can occur.
Medication Strength
Buspirone is produced as an oral tablet in strengths that include:
BuSpar 5 mg tablets
BuSpar 7.5 mg tablets
BuSpar 10 mg tablets
Buspar 15 mg tablets
Buspar 30 mg tablets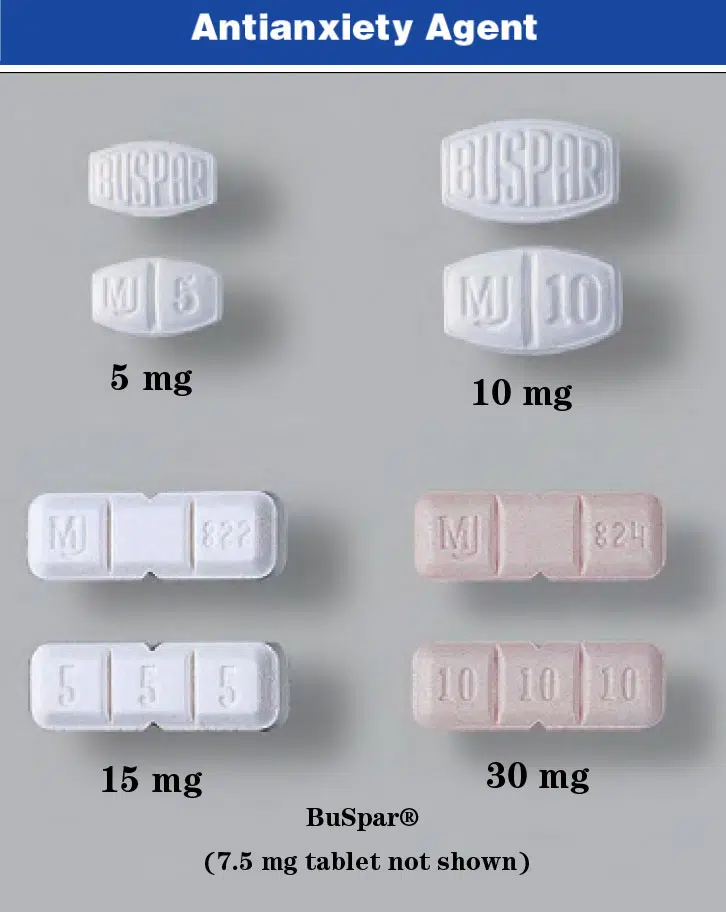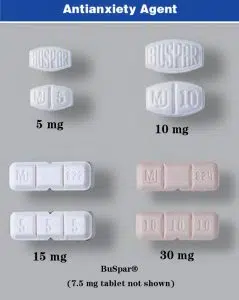 These tablets should be stored at room temperature and kept away from children.
Missed Doses
If you miss a dose of buspirone, you should take it as soon as possible unless it is nearly time for your next dose. In this case, you should skip the missed dose and resume your regular dosing schedule. Do not take double doses of buspirone.
Buspirone Discontinuation
If you suddenly stop taking buspirone you may experience certain rebound or withdrawal symptoms.
To avoid this, healthcare professionals generally recommend tapering-down the dose of the medication gradually.
BuSpar Vs. Benzos
Prescribing physicians often use buspirone as a preferred alternative to benzodiazepine medications like alprazolam (Xanax), lorazepam (Ativan), diazepam (Valium) and others for the treatment of GAD.
While both options work as effective anti-anxiety medications, they have different mechanisms of action:
benzodiazepines bind to GABA receptors in the body, reducing neurotransmitter signaling and slowing overall central nervous system activity
buspirone appears to interact with serotonin and dopamine receptors, potentially decreasing serotonin activity in certain regions of the brain, though it's exact mechanism of action is not fully understood
In contrast with benzos, buspirone is not addictive. It also causes less sedation than benzodiazepine medications. However, buspirone is much slower-acting, taking up to four weeks to have an effect, and can be used to treat fewer medical conditions.
BuSpar Side-Effects
The most common side effects of buspirone treatment include:
nausea
headaches
dizziness
lightheadedness
difficulty concentrating
restlessness
nervousness
unusual excitement
Other uncommon or potentially serious side effects have also been reported, including:
chest pain
blurred vision
clamminess or sweating
decreased concentration
diarrhea
drowsiness
dryness of the mouth
muscle pain, spasms, cramps, or stiffness
ringing in the ears
trouble with sleeping, nightmares, or vivid dreams
unusual tiredness or weakness
Buspirone should also be avoided during pregnancy and breastfeeding.
Allergic Reactions
Use of buspirone could potentially trigger an allergic reaction including rashes, itching or swelling in the face, tongue, or throat, severe dizziness, or trouble breathing.
Buspar Overdose
When taken alone, buspirone is not considered particularly toxic in cases of overdose, but may cause symptoms including nausea, vomiting, dizziness, drowsiness, tremors, muscle rigidity, or others.
Seek medical advice if you believe an overdose has occurred.
Serotonin Syndrome
Serotonin syndrome is a serious medical condition related to high serotonin levels in the body, and generally occurs when two or more serotoninergic substances, potentially including buspirone, are taken in combination.
Symptoms of serotonin syndrome can range from mild to severe and include high blood pressure, elevated heart rate, high body temperature, agitation, tremor, sweating, dilated pupils, diarrhea, and seizures.
BuSpar Drug Interactions
Drug interactions for buspirone include:
MAO Inhibitors
The FDA advises that patients should not take buspirone with any substances that act as a monoamine oxidase inhibitor (MAOI) inhibitor activity as this can result in extremely high blood pressure and a medical emergency.
MOAIs include:
isocarboxazid (Marplan)
phenelzine (Nardil)
selegiline (Emsam)
tranylcypromine (Parnate)
CNS Depressants
Buspirone may also increase the effects of alcohol and other CNS depressants, leading to increased physical and mental impairment which can be hazardous in cases of overdose, motor vehicle operation, or operation of machinery.
Common examples of CNS depressants include:
sleeping pills
opioids
barbiturates
benzodiazepines
muscle relaxers
anesthetics
Individuals are also advised to avoid drinking alcoholic beverages while using buspirone.
Serotoninergic Substances
Due to the risk of serotonin syndrome, patients should use buspirone with caution when also using antidepressants and other medications and supplements including:
selective serotonin reuptake inhibitors (SSRIs) like citalopram (Celexa), fluoxetine (Prozac), and sertraline (Zoloft)
serotonin and norepinephrine reuptake inhibitors (SNRIs)
serotonin receptor antagonists and reuptake inhibitors (SARIs) like trazodone and nefazodone
bupropion
tricyclic antidepressants
certain anti-migraine medications
certain opioid pain medications
lithium (Lithobid)
illicit drugs like LSD, ecstasy, cocaine, and amphetamine
certain supplements including St. John's wort
linezolid (Zyvox), an antibiotic
ritonavir (Norvir), an anti-retroviral medication used to treat HIV
Other Interactions
Certain drugs can increase or decrease the level of buspirone active in the body by influencing the cyp3a4 enzyme or interacting with buspirone in other ways.
These substances include:
grapefruit juice
erythromycin
itraconazole
rifampin
haloperidol
diltiazem
dexamethasone
verapamil
If you or a loved one struggle with prescription drug abuse and would like to discuss treatment options, please contact Ark Behavioral Health today.
Written by Ark Behavioral Health Editorial Team
©2023 Ark National Holdings, LLC. | All Rights Reserved.
This page does not provide medical advice.
Questions About Treatment?
Ark Behavioral Health offers 100% confidential substance abuse assessment and treatment placement tailored to your individual needs. Achieve long-term recovery.
100% confidential. We respect your privacy.
Prefer Texting?
Our friendly support team is here to chat 24/7. Opt out any time.