Is Melatonin Addictive?
Published
on

May 18, 2023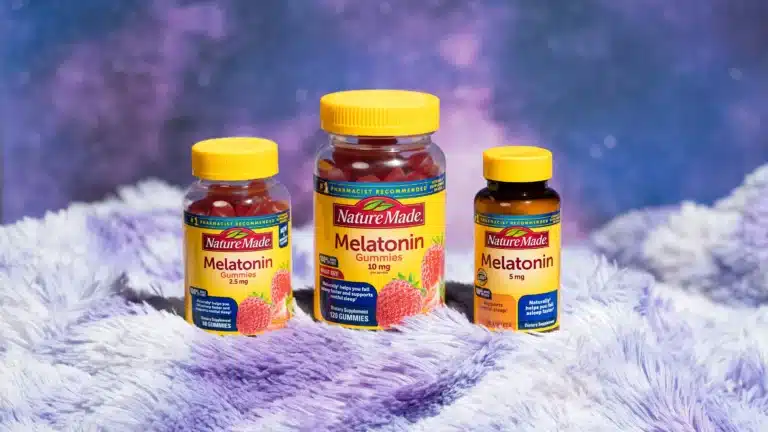 When struggling with a sleep disorder such as insomnia or jet lag, many people turn to melatonin. This natural sleep aid can make it easy to get a good night's rest.
Before you start taking it, you may wonder if it's addictive like certain other sleep medications. However, melatonin use does not cause actual symptoms of addiction. Here's what you need to know.
Symptoms Of Sleeping Aid Addiction
Many sleep medicines, including benzodiazepines such as Xanax and sedative-hypnotics such as Ambien, cause symptoms of addiction.
For example, over time, you might need increasingly higher doses of these drugs to feel the desired effects. This is called tolerance. You may also become physically dependent on the drugs. That means you experience withdrawal symptoms when you stop using them.
Due to these risks, most doctors only prescribe these sleeping pills for short-term use.
Is Melatonin Addictive?
Melatonin, unlike some sleeping aids, does not seem to be addictive. Even so, if you or a family member has a history of addiction, you should discuss it with your doctor before starting melatonin supplements.
Some people who take melatonin on a regular basis might start thinking they can't sleep without it. If they can't access it one night, they may worry they won't be able to sleep. This anxiety could keep them up all night, creating a vicious cycle where the person feels reliant on melatonin.
However, studies suggest that melatonin is not actually addictive. In other words, this feeling of reliance is purely psychological and not indicative of an actual addiction.
How Melatonin Works
Melatonin is a naturally occurring hormone that helps regulate your circadian rhythm, also known as your sleep-wake cycle.
It's produced by your pineal gland. At night, melatonin production increases, causing sleepiness. During the day, the levels of melatonin in your blood decrease, helping you stay awake.
People who often have trouble sleeping, such as shift workers and people with developmental disorders, may benefit from melatonin supplements.
These over-the-counter supplements come in many forms, including pills, liquids, and gummies. They boost the amount of melatonin in your body, making it easier to fall asleep.
Along with regulating your sleep cycle, melatonin also helps regulate other important functions, including your blood pressure, body temperature, and immune response. Your body makes less melatonin as you get older.
Risks Of Melatonin
According to the U.S. Food and Drug Administration (FDA), it's safe to take melatonin for a short period of time. However, there have not been enough studies on the long-term use of melatonin.
That's why you should talk to your healthcare provider before trying the supplement, especially if you plan to use it for a long time. Your doctor can help you figure out the safest melatonin dosage based on your personal needs.
The most common risks of melatonin are side effects and negative drug interactions.
Side Effects
Since melatonin is a natural substance, some people assume it does not have side effects. While your body indeed produces melatonin naturally, melatonin supplements intensify that production, causing unusually high melatonin levels.
As a result, you may experience side effects. The most common side effects of melatonin include:
daytime drowsiness
dizziness
headache
nausea
Rarer side effects include:
vivid dreams or nightmares
irritability
mood swings
depression
diarrhea
constipation
urinary incontinence at night
reduced appetite
stomach cramps
confusion
decreased alertness
Since melatonin can make you drowsy, you should not drive or operate heavy machinery within five hours of using it.
Melatonin may pose additional risks if you are pregnant or breastfeeding.
Negative Drug Interactions
Melatonin supplements may interact negatively with certain medications, including:
anti-seizure medications
medications that slow blood clotting
birth control medications
blood pressure medications
diabetes medications
immunosuppressants
Before you start taking melatonin, ask your doctor if it might interact with any medications or dietary supplements you take.
Other Ways To Sleep Better
Whether or not you use melatonin, it's important to practice good sleep hygiene. In particular, you should:
establish a consistent sleep schedule by going to bed and getting up at the same time each day
get daily exercise, which can help you fall asleep at night
avoid caffeine, alcohol, and large meals before bedtime
remove smart phones, computers, and other electronic devices from your bedroom
keep your bedroom dark, quiet, and a comfortable temperature
These simple steps can help you cope with sleep problems so you don't have to rely on supplements or medications.
If you or someone you love struggles with substance abuse or addiction, please reach out to an Ark Behavioral Health specialist.
Our inpatient and outpatient treatment programs offer medical detox, mental health counseling, and other evidence-based services to help you or your loved one stay drug-free.
Written by Ark Behavioral Health Editorial Team
©2021 Ark National Holdings, LLC. | All Rights Reserved.
This page does not provide medical advice.
Questions About Treatment?
Ark Behavioral Health offers 100% confidential substance abuse assessment and treatment placement tailored to your individual needs. Achieve long-term recovery.
100% confidential. We respect your privacy.
Prefer Texting?
We've got you covered.
Receive 24/7 text support right away.
There is no obligation and you can opt out at any time.