High School Athletes & Future Prescription Stimulant Abuse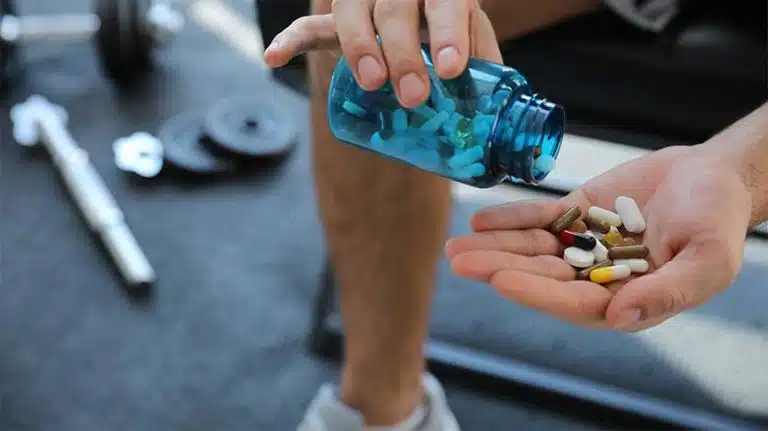 Prescription stimulants are drugs prescribed to treat attention-deficit/hyperactivity disorder (ADHD) and narcolepsy. Some people, especially young people, abuse these drugs to boost energy, concentration, and alertness.
According to a recent study, high school athletes are much more likely than non-athletes to abuse prescription stimulants once they become young adults.
This type of substance abuse can lead to serious health problems, including drug addiction (also called substance use disorder).
High School Prescription Drug Abuse
A 2022 University of Michigan study found that about 31% of high school seniors abused prescription drugs at least once between ages 17 and 18.
Prescription drug abuse occurs when someone uses a prescription drug in a manner not prescribed by a doctor. For example, they might:
take it more often than prescribed
take higher doses than prescribed
take it without a prescription
The study examined whether student athletes face a greater risk of prescription drug abuse after graduation than non-athletes.
High School Athletes & Future Prescription Stimulant Abuse
The University of Michigan study found that high school seniors who play contact sports (such as football, hockey, and wrestling) are about 50% more likely to abuse prescription stimulants in their 20s compared to high school seniors who do not play those sports.
In addition, the researchers found that seniors who play non-contact sports (such as tennis, volleyball, and gymnastics) are more likely to abuse prescription stimulants (such as Adderall, Ritalin, and Concerta) than seniors who play no sports at all.
Also, surprisingly, seniors who play non-contact sports are less likely to abuse prescription opioid painkillers (such as Vicodin and OxyContin) than non-athletes.
The study used data from 4,772 American high school students between 2006 and 2017. In response to the findings, researchers have recommended that high school athletes get regularly screened for drug misuse.
Why Are High School Athletes More Likely To Abuse Prescription Stimulants?
Researchers don't know why high school sports participation increases the risk of prescription stimulant misuse in young adulthood.
However, it might be because some young athletes abuse performance-enhancing drugs, and prescription stimulants can boost athletic performance. Some young people also misuse prescription stimulants to boost their academic performance.
Risks Of Prescription Stimulant Misuse
No matter why you do it, misusing prescription stimulants poses serious health risks, including increased side effects, overdose, and addiction.
Increased Side Effects
Like most prescription medications, prescription stimulants can have side effects. These effects may vary depending on your body and the specific stimulant you used.
The most common side effects of prescription stimulants include:
nervousness
irritability
nausea and vomiting
diarrhea
loss of appetite
weight loss
trouble sleeping
headache
dry mouth
Rarer, more serious side effects may include:
depression
hallucinations (seeing, hearing, or feeling things that aren't there)
delusions (holding beliefs that aren't based in reality)
itching, rash, or hives
teeth grinding
trouble speaking
shortness of breath
seizures
In general, people who abuse prescription stimulants are more likely to experience side effects than people who use the drugs as prescribed.
Overdose
If you take a large amount of prescription stimulants, you may overdose.
The most common symptoms of a prescription stimulant overdose include:
irritability
sweating
faster breathing
faster heart rate
high blood pressure
increased body temperature
chest pain
seizures
loss of consciousness
If you or someone you know experiences these symptoms, seek medical help right away. When left untreated, a stimulant overdose could lead to a heart attack or stroke.
Addiction
Prescription stimulants can be highly addictive, especially if you abuse them. Addiction is a serious disease that makes you feel unable to control your drug use.
Common symptoms include:
intense cravings for drugs
loss of motivation
loss of interest in activities once enjoyed
avoidance of family and friends
decline in personal hygiene
tolerance (needing increasingly larger or more frequent doses of a drug to feel the desired effects)
Another common symptom is physical dependence. That means your body starts relying on prescription stimulants to function. If you stop using them, you may experience unpleasant withdrawal symptoms like depression, fatigue, and trouble sleeping.
Like other diseases, addiction requires professional treatment.
Treatment Options For Prescription Stimulant Abuse & Addiction
If you or someone you love struggles with prescription stimulant use, seek help at a drug abuse treatment program. These programs offer recovery-focused services such as:
To learn more about treatment options for prescription drug misuse, please reach out to an Ark Behavioral Health specialist. Our compassionate treatment providers offer personalized, evidence-based services to help you or your loved one stay drug-free.
Written by Ark Behavioral Health Editorial Team
©2021 Ark National Holdings, LLC. | All Rights Reserved.
This page does not provide medical advice.
Questions About Treatment?
Ark Behavioral Health offers 100% confidential substance abuse assessment and treatment placement tailored to your individual needs. Achieve long-term recovery.
100% confidential. We respect your privacy.
Prefer Texting?
We've got you covered.
Receive 24/7 text support right away.
There is no obligation and you can opt out at any time.