The 5 Types Of Drinkers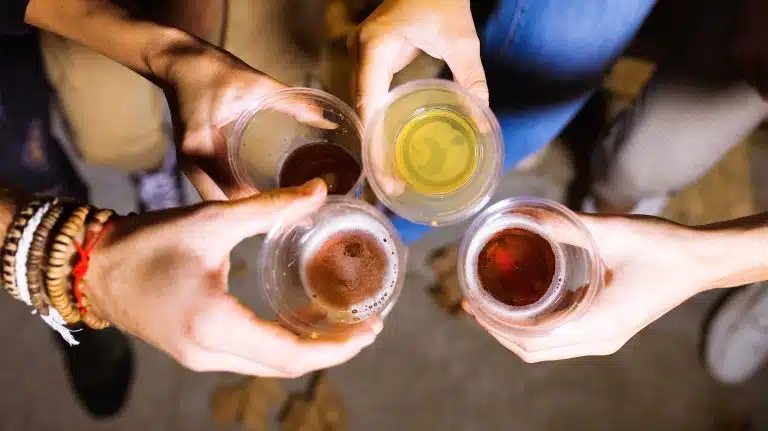 Whether you participate in binge drinking, heavy drinking, or any type of alcohol abuse, it's important to understand the dangers you can face to your health and well-being. From blackouts to alcohol poisoning, heavy alcohol consumption can lead to a number of problems.
A number of issues may contribute to developing an addiction to alcohol. In addition to this, research has narrowed down five types of alcoholics that fall under the umbrella of alcoholism.
In 2007, it was announced that researchers from the National Institute on Alcohol Abuse and Alcoholism (NIAAA), part of the National Institutes of Health (NIH), identified five different types of alcoholics.
1. Young Adult Subtype
The young adult subtype category is composed of young adults who have low rates of co-occurring substance use and other mental health issues. In this specific subtype, the person comes from a family with a low rate of alcoholism.
The young adults in this group tend to not seek treatment despite their harmful drinking habits. Many of those in this category are still enrolled in school or considered college students. Those in the Young Adult Subtype make up 31.6% of U.S. alcoholics.
2. Young Antisocial Subtype
The Young Antisocial Subtype makes up 21% of U.S. alcoholics. Some of the commonalities of those in this group include:
Most are in their mid-twenties.
Many begin drinking early in life or have alcohol problems early on.
More than half of those in this group have a family history of alcoholism.
Almost half have been diagnosed with antisocial personality disorder.
Many in this group have a wide array of mental health issues such as bipolar disorder, major depression, and other anxiety issues.
In addition to this, those in this group who smoke cigarettes and marijuana make up 75% of the group. Others in the group participate in opioid and cocaine use. Almost 35% of those in the young antisocial subtype seek help for their addiction.
3. Functional Subtype
The functional subtype consists of 19.5% of U.S. alcoholics. Known sometimes as functional alcoholics, those in this category are able to handle their day-to-day activities yet still suffer from alcohol dependence.
Those who drink alcohol in the functional subtype likely consist of those with families and stable jobs. They are usually well-educated and considered middle-aged.
4. Intermediate Familial Subtype
Only 25% of the intermediate familial subtype group seek out professional treatment. They account for 19% of alcoholics in the U.S. This subtype consists of:
people who have had clinical depression
people who come from families with multigenerational alcoholism
people who have been diagnosed with bipolar disorder
As is the case in other subtypes, those in the intermediate familial subtype not only struggle with drinking alcohol but other drug abuse as well.
5. Chronic Severe Subtype
The chronic severe subtype consists of 9% of U.S. alcoholics. Those in this group have higher rates of alcohol abuse than other subtypes. For instance, 80% of those in the chronic severe subtype come from families with multigenerational alcoholism.
This subtype consists of almost 70% of those who seek addiction treatment. Although this makes this group the largest to seek treatment, the group has other problems due to alcohol use disorder.
Those in the chronic severe subtype may have to undergo detox due to their high intake of alcoholic beverages. 12-step programs are often necessary for those in this subtype. This subtype also sees people struggling with more mental illness as well.
Alcohol Addiction Treatment Centers
If you or a loved one suffers from any type of substance abuse, professional treatment is available. Treatment may include detox support to help you monitor withdrawal symptoms, behavioral therapy to help you make healthy changes, and other recovery services.
To learn about our treatment programs, please contact us today.
Written by Ark Behavioral Health Editorial Team
©2021 Ark National Holdings, LLC. | All Rights Reserved.
This page does not provide medical advice.
Questions About Treatment?
Ark Behavioral Health offers 100% confidential substance abuse assessment and treatment placement tailored to your individual needs. Achieve long-term recovery.
100% confidential. We respect your privacy.
Prefer Texting?
We've got you covered.
Receive 24/7 text support right away.
There is no obligation and you can opt out at any time.