Drinking Brandy Every Day | Effects, Risks, & Potential Benefits
Published
on

September 28, 2021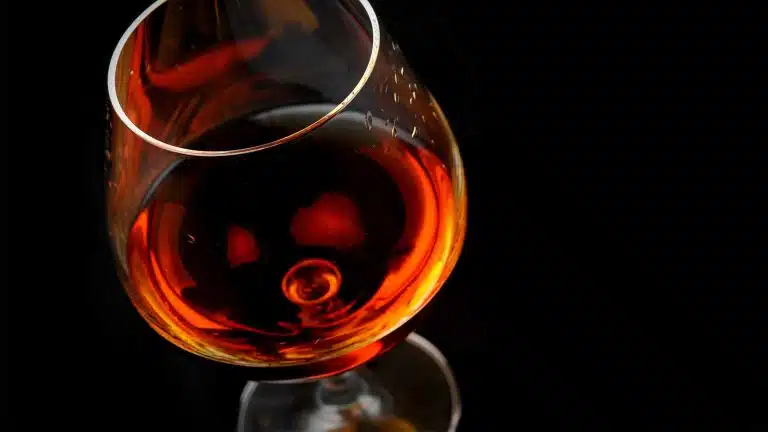 Brandy is a strong distilled spirit made from wine. It is often seen as an after-dinner drink, and popular forms of brandy-like cognac and armagnac are enjoyed all around the world.
Brandy has a high alcohol content. United States law says brandy must be sold at a minimum of 40% alcohol, which makes brandy a strong alcoholic beverage on its own. Since brandy contains a high amount of alcohol, drinking too much of it can lead to health problems.
Effects Of Drinking Every Day
If you decide to drink brandy every day, health experts recommend you limit yourself to 2 standard drinks (for men) or 1 standard drink (for women) per day.
A standard drink is a measure of moderate drinking. 1.5 ounces of a distilled spirit like brandy meets the requirement for one standard drink.
Moderate Drinking
If you drink moderate amounts of brandy every day, you are more likely to experience pleasant effects of alcohol like relaxation, increased sociability, and an improved mood. Moderate drinking still comes with risks, since no amount of alcohol is completely safe for the body.
Excessive Drinking
Going over the standard drinking limit is a form of excessive drinking. Excessive drinking puts you at a higher risk of harmful side effects. However, you can still experience these side effects even if you are only drinking moderately:
impairment
dizziness
headache
drunk driving
drowsiness
loss of balance
Risks Of Drinking Every Day
Being drunk every day can be a health risk on its own, but long-term alcohol use is linked to many more serious health problems. One health risk is a weakened immune system, which can put you at a higher risk for many conditions.
Other health risks of drinking brandy daily are specific to certain parts of the body.
Brain Damage & Mental Health Problems
Drinking alcohol over a long period of time is linked to long-term brain damage. Memory loss and Wernicke's encephalopathy, a degenerative brain condition, are both linked to heavy drinking.
Alcohol use can also hurt your mental health.
Alcohol can change how neurotransmitters work in your brain, which changes how your brain puts out feelings of motivation and reward. If your brain is dependent on alcohol for these neurotransmitters, you may be at risk for alcohol addiction.
If you have a preexisting mental health condition like depression or anxiety, drinking alcohol can make these conditions worse.
Increased Risk Of Cardiovascular System Issues
If your alcohol intake is high, you can put stress on your cardiovascular system. Your cardiovascular system includes your heart and blood vessels and keeps blood flowing through your body.
Like other types of alcohol, brandy can cause inflammation in the blood vessels, increase cholesterol levels, and affect your heart health directly. Long-term effects of alcohol on the cardiovascular system include:
Liver Damage
Brandy's main ingredient, ethanol, is mostly broken down in the liver. Over time, the liver is exposed to alcohol more than other parts of your body, which puts it at a high risk of liver damage.
The effects of alcohol on the liver have been studied for decades. Alcohol can cause fatty liver disease, liver cirrhosis, liver cancer, and even liver failure if alcohol use goes unchecked.
Potential Health Benefits Of Brandy
Alcoholic drinks like brandy were historically used to treat various conditions all the way up to the 20th century. A shot of brandy might have been prescribed for pneumonia, low blood pressure, or sleeping problems.
While most health experts now know brandy does not treat most health problems, some modern studies suggest moderate alcohol consumption of brandy can have some health benefits.
However, brandy is still not a highly studied type of alcohol compared to red wine or other spirits.
Antioxidants & Low Carbs
Some studies show brandy has antioxidants that come from distillation and aging in oak barrels. These antioxidants may be similar to Vitamin C, which helps fight against potential cancer-causing molecules in the body known as free radicals.
Brandy is also low in carbohydrates, which can be helpful for people who are dieting.
Addressing Problem Drinking
Whether you enjoy brandy neat or in cocktails like a Brandy Alexander or Sidecar, drinking brandy moderately can help minimize your health risk.
If you try to drink moderately but end up binge drinking, you may have a drinking problem. If you drink too much every day, you may also have a drinking problem. Drinking problems can take over your life if you are unable to control them.
To find professional help for a drinking problem, contact our helpline today.
Written by Ark Behavioral Health Editorial Team
©2023 Ark National Holdings, LLC. | All Rights Reserved.
This page does not provide medical advice.
Questions About Treatment?
Ark Behavioral Health offers 100% confidential substance abuse assessment and treatment placement tailored to your individual needs. Achieve long-term recovery.
100% confidential. We respect your privacy.
Prefer Texting?
We've got you covered.
Receive 24/7 text support right away.
There is no obligation and you can opt out at any time.