Alcohol Laws By State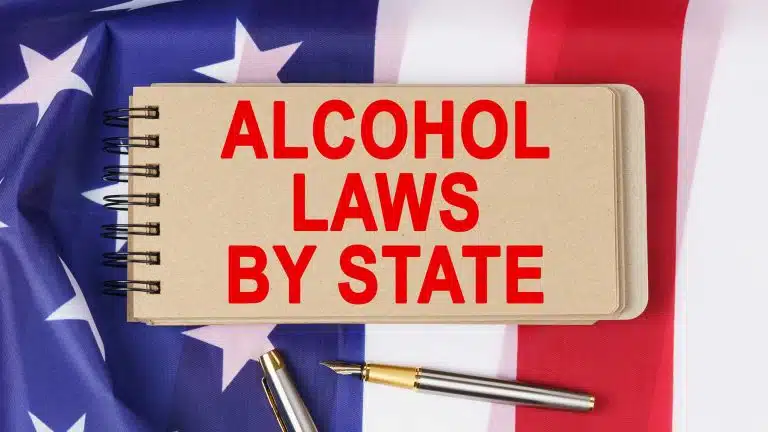 In the United States, there are many federal laws that apply to buying, possessing, and drinking alcohol nationwide. However, not all laws about alcohol apply to every state.
States have the freedom to choose some state laws that differ from national liquor laws. These differences involve:
the consumption of alcohol in public places
the legal drinking age
the sale of alcoholic beverages and when people can buy alcoholic drinks
what counts as a legal blood alcohol concentration
Consumption Of Alcohol In Public Places
It is illegal to drink alcohol in public in many parts of the U.S. Laws that ban public drinking are likely left up to specific cities and counties, not entire states. Exceptions include Washington, Utah, and New Jersey, which all have statewide bans on public drinking.
Designated Drinking Areas
Many cities around the U.S. have designated areas where it is legal to drink in public. Parks and areas of entertainment are common examples where public drinking is allowed.
Types Of Containers Allowed
Laws may also depend on the type of container you are drinking from. Cups that have alcohol are likely acceptable in places that allow it, while cans and bottles are usually not.
Public intoxication is usually a misdemeanor (minor crime), and punishment can include jail time and a fine.
Legal Drinking Age
The legal drinking age in the United States is 21. However, some states allow people under 21 to drink alcohol in certain cases.
Parental Supervision Exception
In states like Washington and Louisiana, underage drinking may be allowed in public places with parental supervision. States like Oregon and Illinois also require parental supervision in private places only.
No Underage Drinking
States like Arizona, Michigan, Utah, and Pennsylvania do not allow underage drinking in any case.
Other states, such as California and New York, do not have statewide policies about underage drinking. The federal policy may be followed instead in this case.
Laws About The Sale Of Alcoholic Beverages
Some laws about buying and selling alcohol apply to the entire U.S. Buying alcohol means you must give an acceptable form of I.D., which may include a driver's license, passport, or military I.D.
Other laws about buying and selling alcohol may be left up to the states. This includes how long retailers can sell alcohol and who can possess the alcohol after it's bought.
Curfew For Retailers Selling Alcohol
Most states do not allow liquor sales after a certain time of night. This curfew can apply to liquor stores, grocery stores, restaurants, and other places that sell or serve alcohol.
The time of night the curfew starts usually depends on the state or area. Places like Arizona or the District of Columbia prohibit alcohol sales after 2 am, while Louisiana and Mississippi leave laws up to individual districts and counties.
These curfews may also depend on the day of the week. The state of Alabama bans retailers from selling alcohol after 2 am, but only on Sundays.
Possession Of Alcohol
All states ban the sale of alcohol to minors. Minors are also banned from possessing alcohol, which includes alcoholic drinks and "internal possession" (having alcohol in their system). Some states have exceptions to minors possessing alcohol.
States like Maryland, Alaska, and Delaware allow minors to possess alcohol if it was given to them by a parent or legal guardian. These states usually require parents and guardians to look after minors after giving them alcohol.
States like Montana, Iowa, and Oklahoma prohibit minors from possessing alcohol in public places but allow it in private places. This law may be combined with minors legally possessing alcohol in the company of a parent.
Minors Employed At Retailers That Sell Alcohol
Depending on the state, a minor can work at a place that sells alcohol, as long as alcohol is not the main focus. States where this is legal include:
California
Tennessee
Texas
Minnesota
Maine
Minors living in these states may be allowed to work at grocery stores, but not at bars, liquor stores, or even some restaurants during happy hour. The minimum age for these states varies between 16 and 18.
In these cases, minors may even sell beer, wine, and spirits to customers as long as an adult supervisor is present.
Legal Blood Alcohol Concentration (BAC)
A blood alcohol concentration (BAC) of 0.08 percent is the legal limit throughout the United States. No matter where you are in the U.S., if you are caught driving a motor vehicle over this limit, you can get penalized with a DUI (driving under the influence).
Zero Tolerance For Minors
States have some differences depending on who is caught driving under the influence, and how severe the punishment is. For minors, some states have a "zero tolerance" BAC limit of 0 percent, while others have a limit of 0.02 percent.
Enhanced Penalties
Individual states may have an additional "enhanced penalty" law, where the punishment is more severe if your BAC is much higher than 0.08 percent. This limit may be 0.15 percent in states like Nevada and New York, while states like Alaska have no enhanced penalty at all.
Alcohol Laws Prevent Alcohol Problems
Alcohol laws exist to lower the risk of public intoxication, underage drinking, driving under the influence of alcohol, and other potential dangers. Laws like these can protect U.S. Citizens, not limit their freedoms.
If you are unsure about alcohol laws in your state, not buying, drinking, or possessing alcohol is an effective way to avoid trouble.
If you or a loved one are breaking alcohol laws from the state or federal government, this may be a sign of a drinking problem. To find out how to get help for a potential drinking problem, please contact us today.
Written by Ark Behavioral Health Editorial Team
©2023 Ark National Holdings, LLC. | All Rights Reserved.
This page does not provide medical advice.
Questions About Treatment?
Ark Behavioral Health offers 100% confidential substance abuse assessment and treatment placement tailored to your individual needs. Achieve long-term recovery.
100% confidential. We respect your privacy.
Prefer Texting?
We've got you covered.
Receive 24/7 text support right away.
There is no obligation and you can opt out at any time.