Does Alcohol Increase Cholesterol? | How Alcohol Affects Cholesterol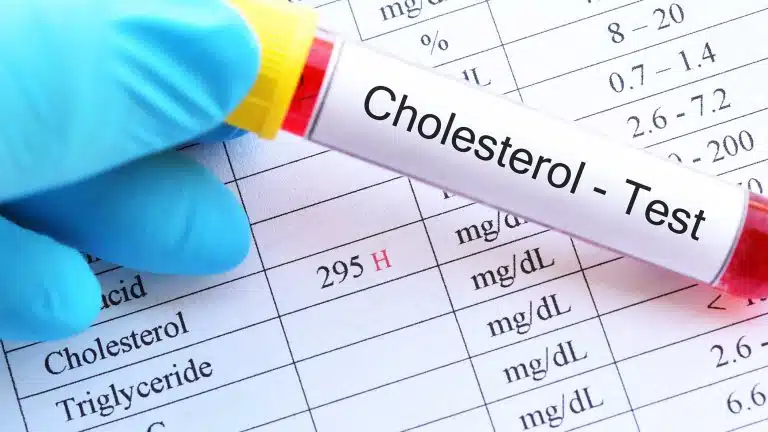 Alcohol impacts your body in numerous ways, including ways you might not realize.
For example, it can affect the amount of cholesterol in your body, which plays an important role in your heart health.
What Is Cholesterol?
Cholesterol is a waxy substance produced by your liver. Carried through your blood on proteins called lipoproteins, it helps your body produce healthy cells and hormones.
There are two main types of cholesterol: low-density lipoprotein (LDL) cholesterol and high-density lipoprotein (HDL) cholesterol.
LDL Cholesterol
LDL cholesterol is considered "bad" cholesterol. That's because excess amounts of it can cause atherosclerosis (plaque buildup in the arteries). This condition causes your arteries to narrow, which blocks the flow of blood and oxygen to your organs.
When blood can't reach your heart, you face an increased risk of heart disease (also called cardiovascular disease), including coronary artery disease (which can lead to heart attack, heart failure, and angina).
When blood can't reach your brain, you face an increased risk of stroke.
HDL Cholesterol
HDL cholesterol is considered "good" cholesterol. It absorbs bad cholesterol from your blood and transfers it back to your liver, where it's safely removed from your body.
High levels of HDL cholesterol can reduce your risk of heart disease and stroke.
How Drinking Alcohol Affects Your Cholesterol
Your liver produces all the cholesterol your body needs. However, your cholesterol levels can change when you eat certain foods and drinks, including alcohol.
The same organ that produces cholesterol (the liver) is also responsible for processing alcohol. That's why excessive alcohol consumption can increase your cholesterol levels, specifically your bad cholesterol levels.
The National Institute on Alcohol Abuse and Alcoholism (NIAAA) defines excessive drinking as:
consuming more than two alcoholic drinks a day if you're a man
consuming more than one alcoholic drink a day if you're a woman
The NIAAA defines a "drink" as any alcoholic beverage that contains about 14 grams of pure alcohol. This amount of alcohol appears in:
12 ounces of regular beer
5 ounces of wine
1.5 ounces of distilled spirits
High Triglycerides
Alcohol can also raise your bad cholesterol levels by causing high triglycerides. Triglycerides are lipids (fats) found in the blood.
When you drink too much alcohol, triglycerides can build up in your liver. You may then develop fatty liver disease. This condition prevents your liver from removing bad cholesterol from your body, which causes your cholesterol levels to increase.
Weight Gain
In addition, because many types of alcohol feature a large number of calories and added sugar, frequent alcohol use can make you overweight. Being overweight is a risk factor for having low HDL cholesterol levels (good cholesterol) and high LDL levels (bad cholesterol).
Can Drinking Alcohol Have Positive Effects On Cholesterol?
Some studies suggest that drinking a moderate amount of red wine may increase good cholesterol and improve heart health.
However, this effect probably results not from the alcohol itself but from resveratrol. Resveratrol is a polyphenol (a type of compound) that acts as an antioxidant. It may help maintain healthy cholesterol levels, prevent blood clots, and protect blood vessels from damage.
If you want to experience the potential benefits of resveratrol, don't start drinking red wine.
The drink's negative effects (such as liver damage and alcohol poisoning) outweigh any potential benefits. Instead, try other foods that contain resveratrol, such as grapes, peanuts, and blueberries.
How To Maintain Healthy Cholesterol Levels
To reduce bad cholesterol and increase good cholesterol, you should avoid alcohol or only drink in moderation. Moderate drinking occurs when:
women limit their alcohol intake to one drink or less per day
men limit their alcohol intake to two drinks or less per day
You can also maintain healthy cholesterol levels by:
drinking alcohol more slowly
never drinking alcohol on an empty stomach
eating plenty of fruits and vegetables
eating foods high in omega-3 fatty acids, such as salmon, tuna, walnuts, and chia seeds
limiting your intake of salt and saturated fat
not smoking
If you or someone you love feels unable to stop drinking alcohol, please reach out to an Ark Behavioral Health specialist. We provide comprehensive treatment services for alcohol abuse and addiction, including therapy, support groups, and medical detox.
Written by Ark Behavioral Health Editorial Team
©2023 Ark National Holdings, LLC. | All Rights Reserved.
This page does not provide medical advice.
Questions About Treatment?
Ark Behavioral Health offers 100% confidential substance abuse assessment and treatment placement tailored to your individual needs. Achieve long-term recovery.
100% confidential. We respect your privacy.
Prefer Texting?
Our friendly support team is here to chat 24/7. Opt out any time.