Is There A Connection Between Alcohol Abuse & Restless Leg Syndrome?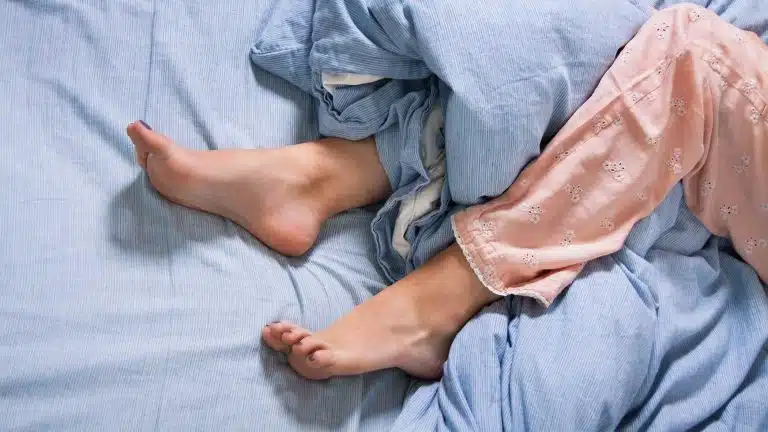 Restless legs syndrome (RLS), also known as Willis-Ekbom disease, causes a person to experience irresistible leg movements as well as unpleasant sensations.
There are many risk factors that can lead to restless legs syndrome. For instance, those who have been diagnosed with RLS should avoid alcohol as it can exacerbate their symptoms.
Although alcohol isn't a cause of RLS, drinking can adversely affect the symptoms of RLS.
Restless Leg Syndrome & Alcohol
RLS causes uncomfortable and painful sensations in the legs. Categorized as sleep and neurological disorder, RLS symptoms tend to take place in the evening or at night.
Some of the symptoms or sensations you may feel in your legs include:
burning
throbbing
prickling
creeping
tugging
Drinking Is Not Recommended
Even though alcohol doesn't cause RLS, there are other ways it negatively affects someone who has symptoms of or has been diagnosed with RLS. For instance, those with RLS who drink alcohol have an increased risk of developing other health issues.
Since RLS is a sleep disorder, drinking alcohol at night is not recommended. Alcohol may allow you to fall asleep more quickly, but it can interrupt your sleep habits and even cause a lack of sleep.
Risk Factors For Worse RLS Symptoms
There are a variety of substances and habits that can make symptoms of RLS worse. Some of these include:
alcohol use
antidepressants
​anti-nausea drugs
antihistamines
​antipsychotic medications
lack of exercise
beta blockers
over-the-counter sleep aids
Antihistamines such as Benadryl can block the brain's dopamine receptors, causing RLS symptoms to occur. Lack of exercise is another factor in worsening RLS symptoms.
Nutritional Deficiencies
Those who have RLS and other medical conditions such as Parkinson's disease or kidney disease may experience a nutritional deficiency. An iron deficiency can lead to anemia or kidney failure.
Since alcohol weakens the immune system, you may have fewer nutrients than you realize. This is another reason why alcohol should be avoided if you are diagnosed with RLS.
Additional Risk Factors
Other risk factors of RLS include rheumatoid arthritis, peripheral neuropathy, and fibromyalgia.
A large majority of those who experience RLS also have other health conditions such as periodic limb movement disorder (PLMD). PLMD causes a person's legs to twitch or jerk uncontrollably.
Easing The Symptoms Of RLS
Those diagnosed with RLS can ease their symptoms with:
benzodiazepines (with the help of a doctor)
opiate-based painkillers such as codeine (with the help of a doctor)
drugs that treat dopamine levels
a warm bath
moderate exercise
RLS is a disease of the nervous system. Benzodiazepines that target the central nervous system can help ease symptoms of those with RLS and calm the body.
If you've experienced an iron deficiency, your doctor may want you to take iron supplements. Magnesium supplements may also reduce symptoms.
Lifestyle Changes
Ultimately, making lifestyle changes will likely benefit you and help ease the side effects of RLS. This includes getting regular exercise, avoiding drugs and alcohol, and contacting your doctor regularly so you can continue to manage your symptoms.
Addressing Unhealthy Alcohol Use
If you or a loved one are struggling with alcohol abuse, professional treatment may help. Alcohol treatment programs use a multidisciplinary approach to address you as a whole person. Services may include detox support, medications, and therapy.
To learn more, please contact us today.
Written by Ark Behavioral Health Editorial Team
©2023 Ark National Holdings, LLC. | All Rights Reserved.
This page does not provide medical advice.
Questions About Treatment?
Ark Behavioral Health offers 100% confidential substance abuse assessment and treatment placement tailored to your individual needs. Achieve long-term recovery.
100% confidential. We respect your privacy.
Prefer Texting?
Our friendly support team is here to chat 24/7. Opt out any time.